There are many impressive things a parent could witness when it comes to its child, and one of those include baby's first steps. When teaching a baby how to walk, one accessory might come in handy, and that is a baby walker. It can speed up the process of getting your baby mobile, and it can even build baby's confidence and cognitive/motor skills. It can be challenging to pick the right walker for your baby, since you need to know how it is tested for factors like stability, durability, safety, ease of use, storage, portability, the fun factor, and style. So we decided to help you out, and we came up with a list of the best 4 baby walkers. Take a look.
Bright Starts Walk-A-Bout Walker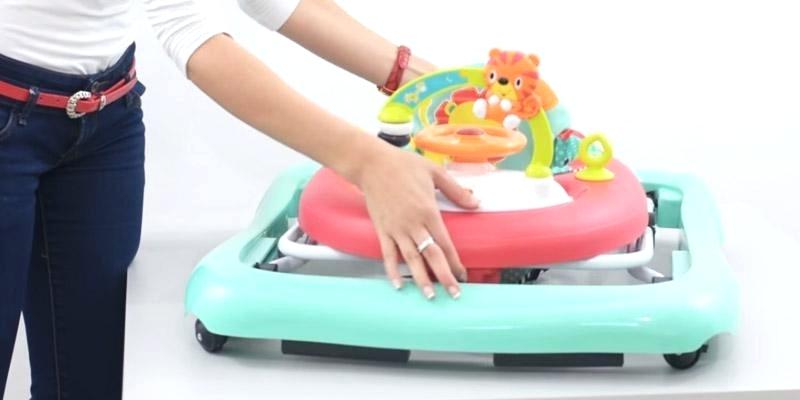 At first look this walker is all bright and pretty, but the beauty is not the only reason we put it on our list. Bright Starts Walk-A-Bout Walker has some features that seem important for a walker to have. First of all, the walker is easy to fit, easy to fold and clean. Its sitting cushion is detachable, so you can take it out and wash it without worries. Its wheels are very good, and it has an unique music making feature that your baby will like very much. Apart from that, the removable electronic toy with sound, melodies, and lights, will help baby with its developmental activities and enjoyment. It also has 3 adjustable height positions to grow with baby.
Stork Craft Mini Speedster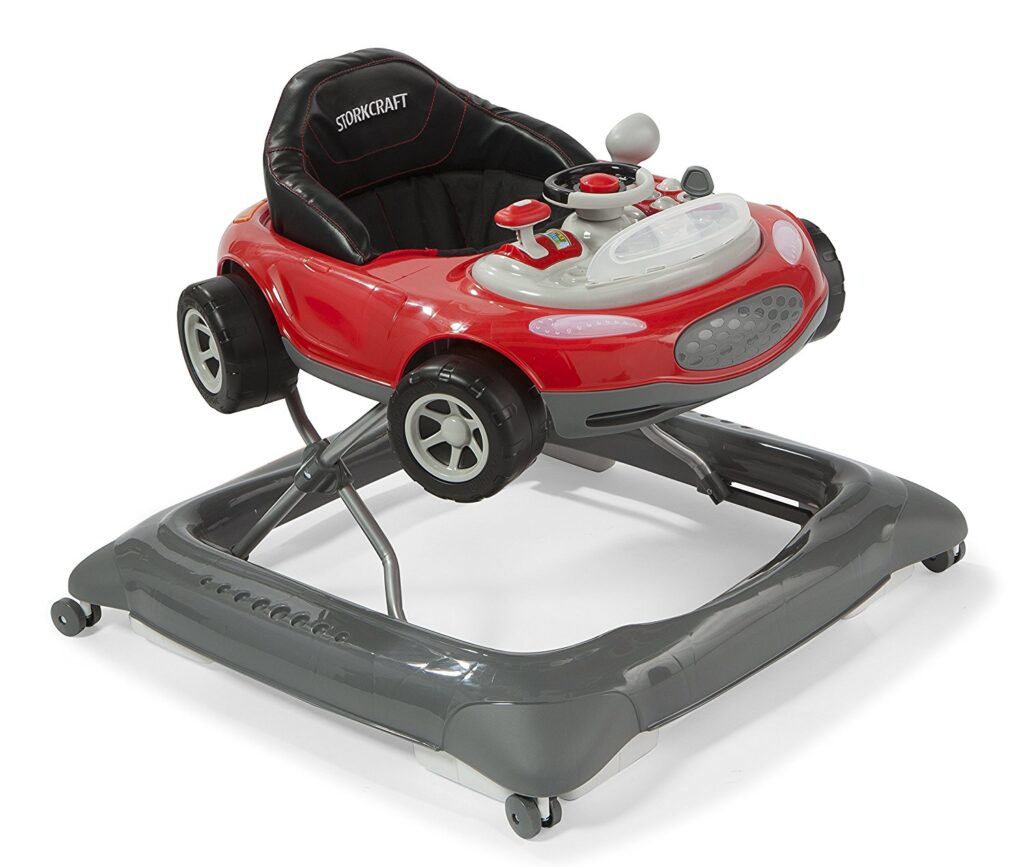 This walker features rotatable wheels, thanks to which your baby will easily turn corners and move around objects. Its unique, race-car design makes it beautiful and playful. Apart from its look, it is important to say that this baby walker is also strong and sturdy. Just like the previous walker, this one features three-position, height adjustable seat. Stork Craft Mini Speedster has anti-slip pads for stairs, and it provides you with possibility of removing seat pad, so you can wash it. Apart from looking like a suitable adult car, this walker features all the interactive elements and an array of engaging light and sound.
Joovy Spoon Baby Walker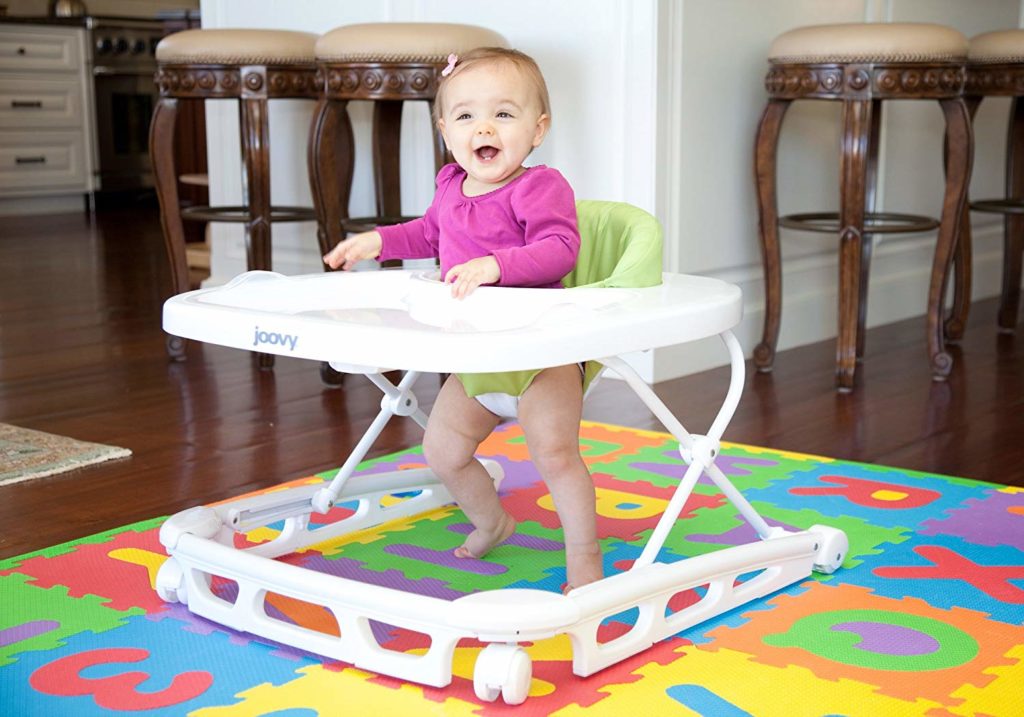 With a classic form of a traditional sit-in baby walker, Joovy Spoon Baby Walker is one of the top-rated baby walkers which comes with amazing features. It is very lightweight and can be folded up into a pretty thin format which can be slided under your bed or somewhere else for storage. The walker features an extra large removable tray, convenient for meal time, and the tray is easy to clean. Its seat pad is supportive and machine washable, and it also has 3 height positions and a non slip stair pads.
Vtech Sit To Stand Learning Walker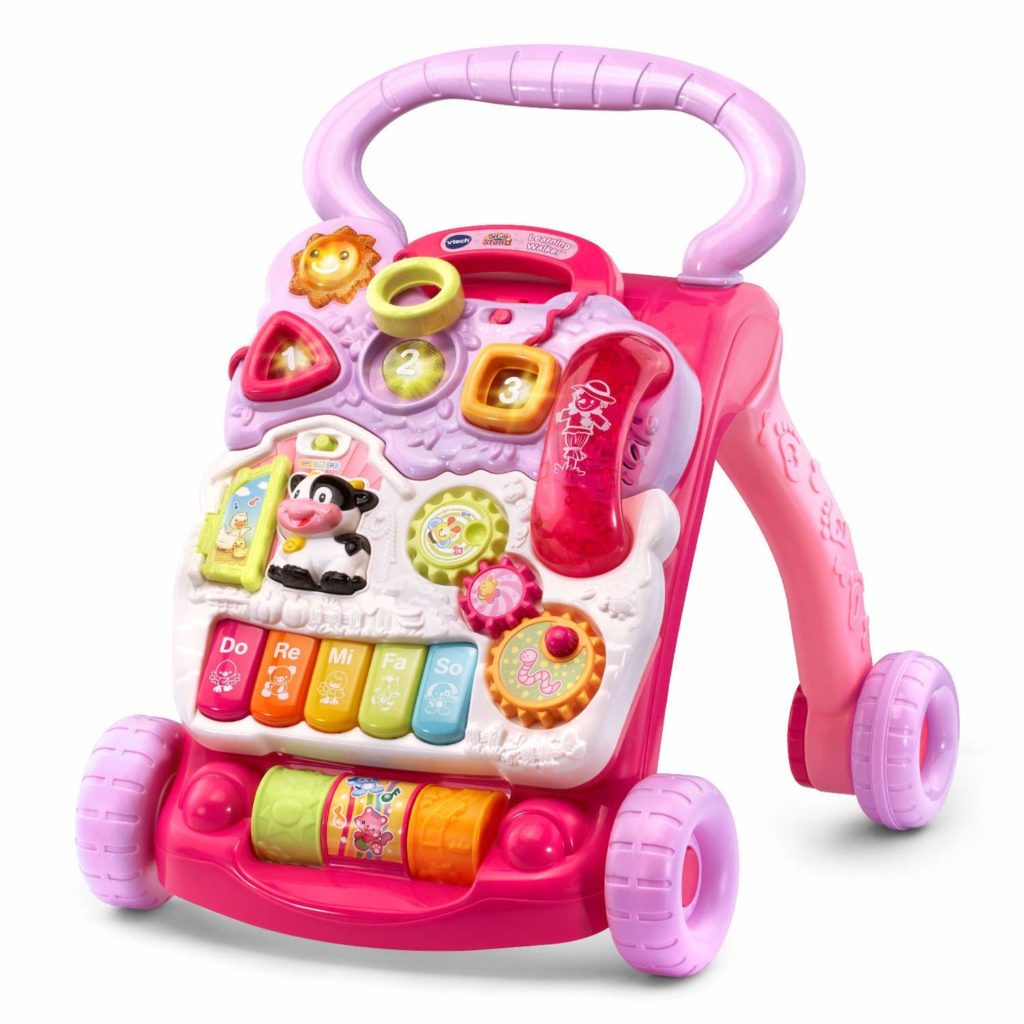 This attractive baby walker presents piano buttons and shape-sorting toys which are designed to encourage the creativity of your little one. It features an array of 60+ noises, sounds, and songs, which babies love. This walker is suitable for babies who have already learned to pull themselves up but haven't learned to walk independently. It features unique wheel locks to control the speed.