Decorating children's rooms is a lot of fun! The potential is practically limitless, and there are no design constraints. The walls are the most enjoyable part – they're like big fresh canvases waiting for bold colors and fun designs.
This article shows you tons of ideas and information to decor your children's room in a better way. These ideas are easily adaptable to fit your child's interests and preferences. This may include kid-friendly color palettes or fun ideas for artwork and wall decor.
There's something for kids of all ages here, from toddlers to teenagers.
1.   Easy, Geometric Design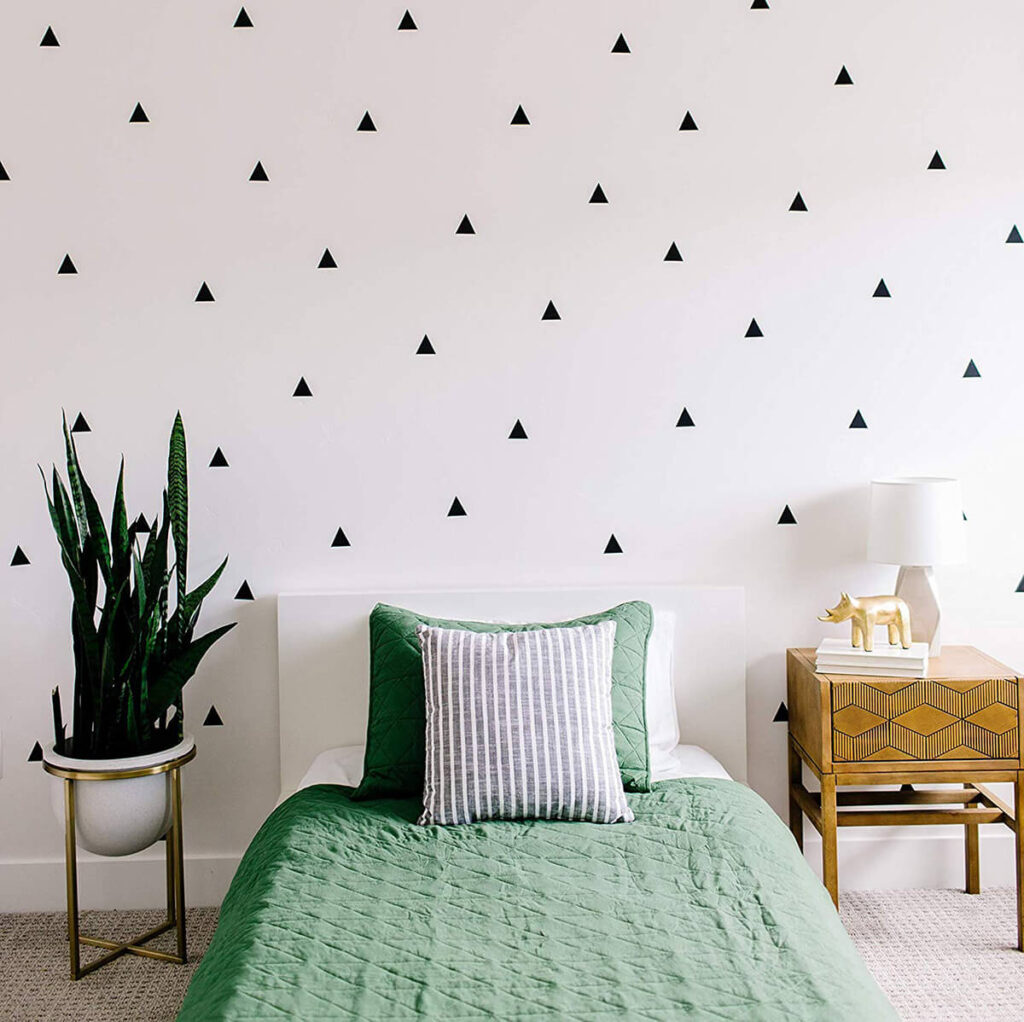 The crisp white walls are contrasted with small black triangles. Use a stencil to create this type of look, or use wall decals for a less permanent option.
Toy storage does not have to be tedious. On a wall of floating shelves, your child's collection of toys can double as decor.
2.   Little Ballerina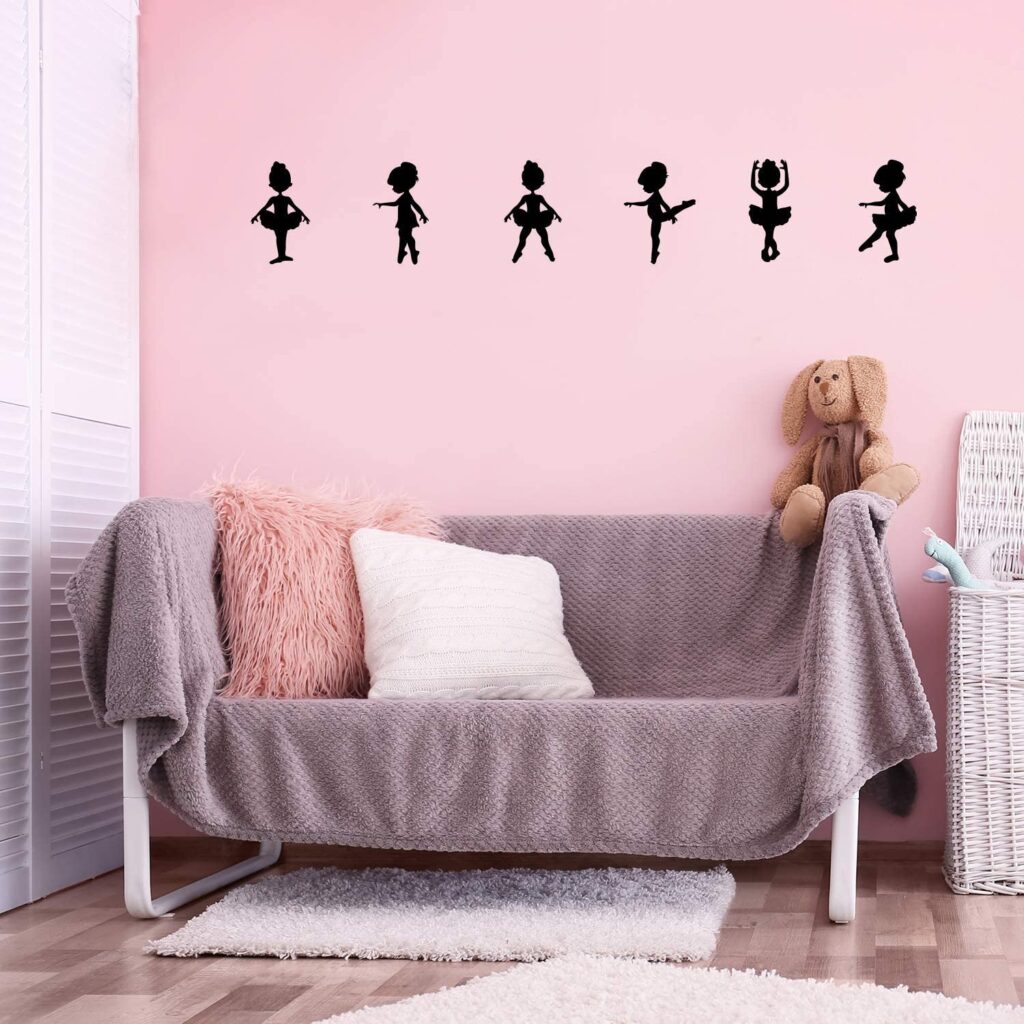 Your delicate dancer is deserving of a special place. The sheer look of the little girl's room included a place to hang her ballet outfit and shoes.
Choosing a monochromatic color scheme with subtle accent colors gives you more flexibility as your child grows.
3.   Wall Decor with Inspirational Quotes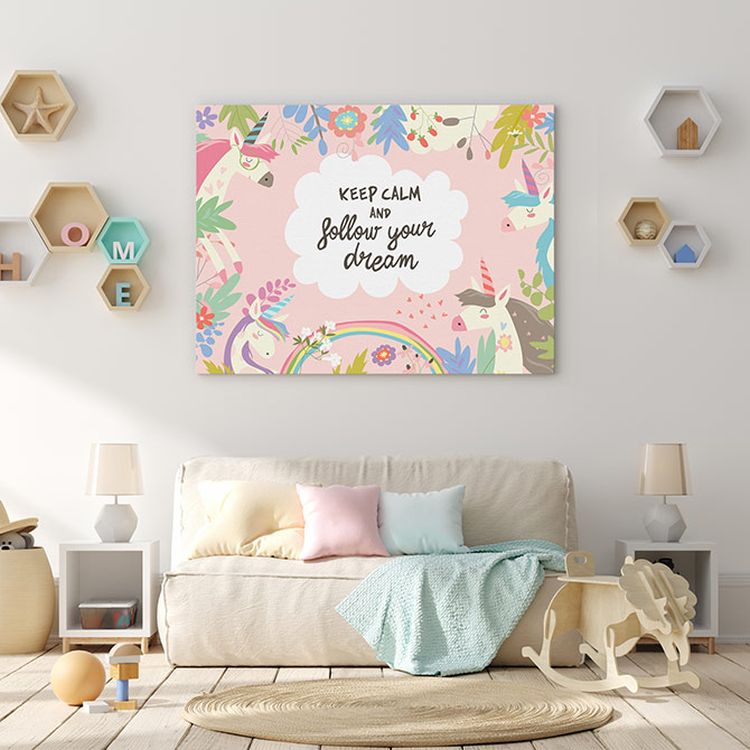 While stars, flowers, and cute animals are appropriate for young children, teens, and tweens. Quotes from their favorite books would better serve it. Alternatively, you can use inspirational quotes from world leaders, scientists, and famous people to decorate the walls.
Use different quotes in different areas of the room. For example, a "Hakuna Matata" theme will work well in the bedroom. Quotes like "Never Give Up" or "Dream Big" will quickly spruce up your children's study desks.
4.   Turquoise + Coral
Consider a chic and timeless color palette for your nursery that will grow with your child. Coral and turquoise, combined with gleaming gold accents, make a lovely combination for a little girl's room.
Monogrammed wall art is a charming and timeless addition that will outlast the baby stage.
5.   Wild for Watermelon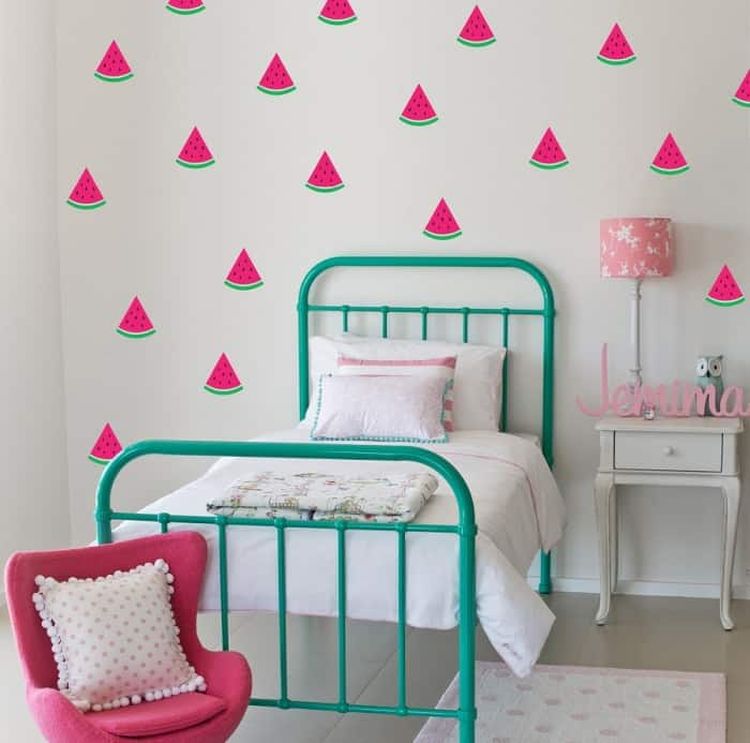 Hot pink is a bold color for decorating, but combining it with a softer shade like mint green helps soften its impact. A watermelon throw pillow inspired the color palette for a little girl's bedroom.
Watermelon decals adorn the plain white walls to keep the theme going.
6.   Animal and Jungle Theme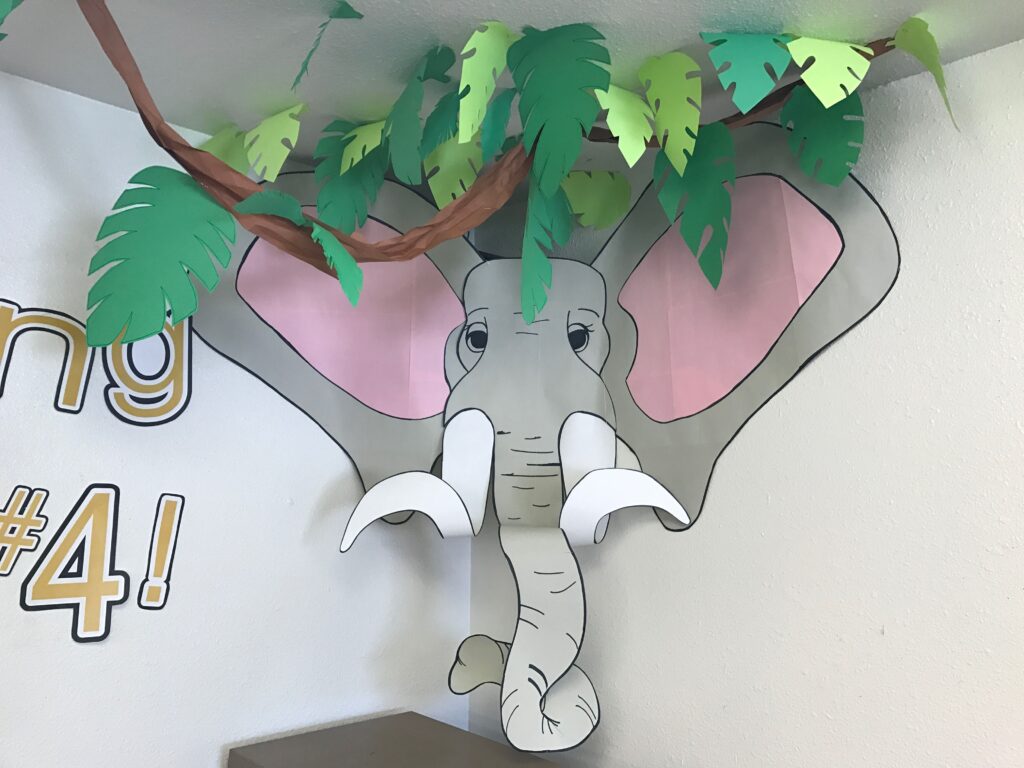 Do you have an animal-obsessed child at home? Decorate the room with jungle-themed or animal-themed wall decor to allow your children to embrace and express their love for animals.
Jungle safaris, cartoon animals, swinging monkeys, and magnificent giraffes are the most popular choices among parents for their children's rooms. Animal and jungle-themed decor is best suited for young children, and such designs also help children learn about the natural world.
7.   Beautiful Butterflies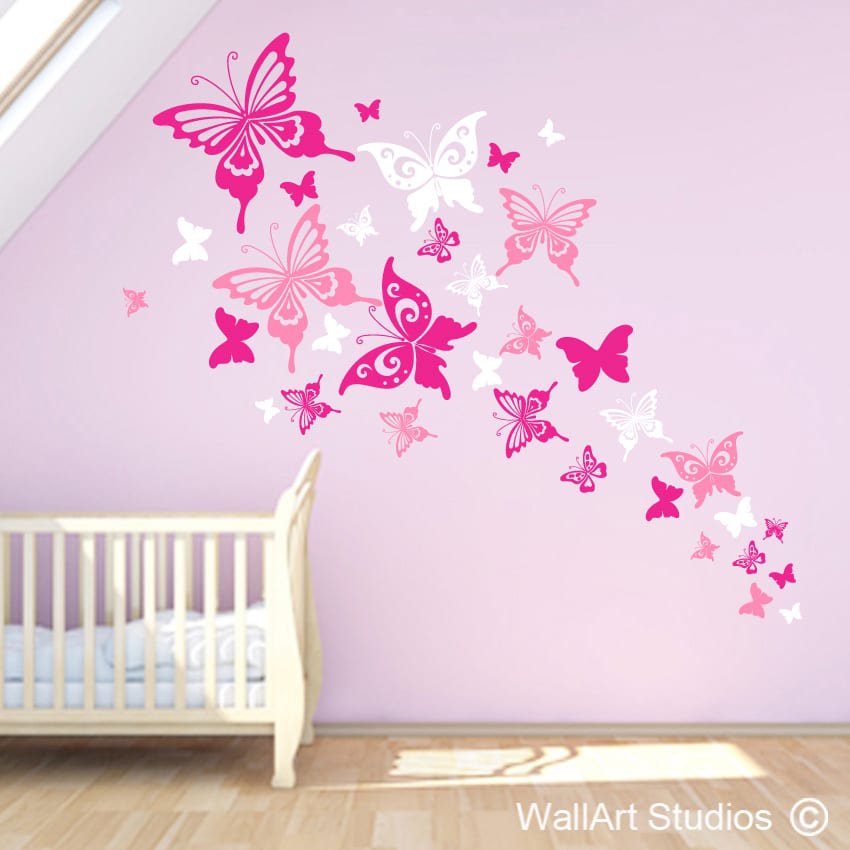 Don't be afraid to experiment with different patterns. In this eclectic bedroom, a colorful accent wall with a butterfly print goes perfectly with the bedding.
Stick to a similar color scheme and avoid going overboard. The design would be too visually busy if the butterfly wallpaper use on all of the walls.
8.   Keep it Neutral
When it comes to decorating a first-time nursery, it's tempting to go all out. But take inspiration from neutral-toned space to make your life easier.
Not only are neutral tones still popular, but they also allow you to incorporate color cost-effectively. And as your child grows, the neutral canvas is simple to change.
9. Wall Art of Adventure Maps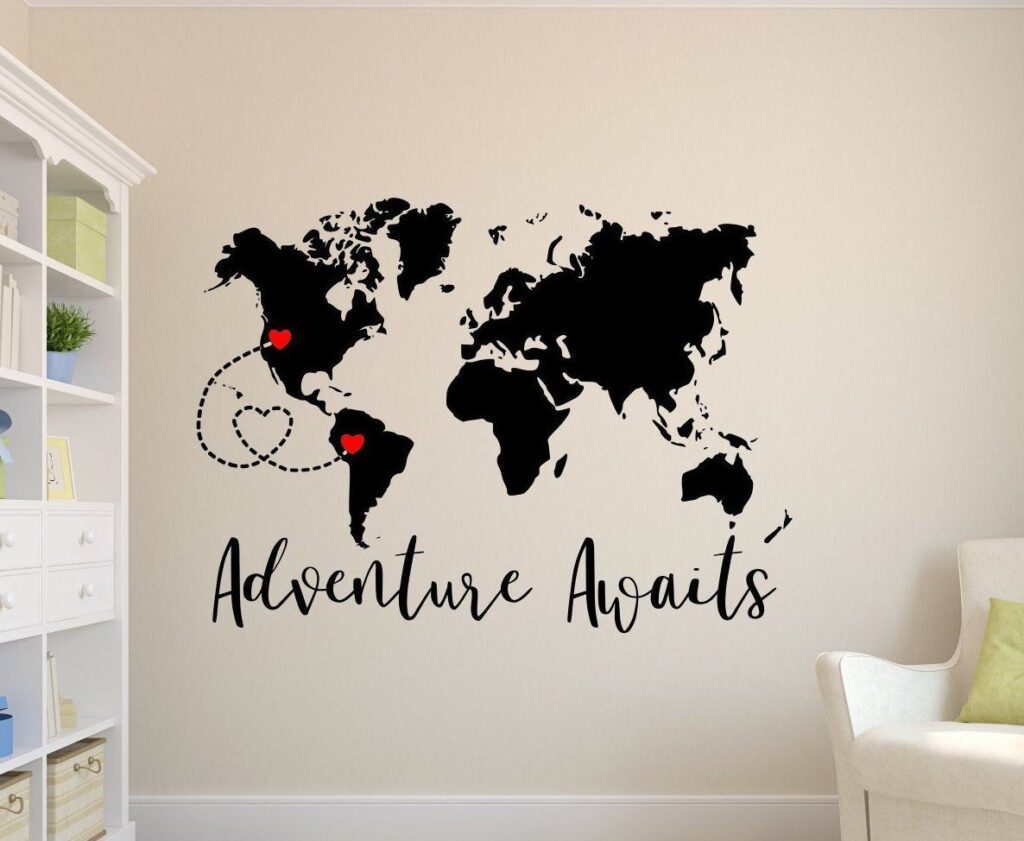 Long-time veterans like Dora and Diego can attest to the dream of traveling around the world and reaching far and wide. Adventure map wall decor is ideal for instilling an insatiable wanderlust in your little ones.
Allow your little explorers' minds to wander a little. And allow them to become curious about different countries, cultures, people, and geographies around the world.
You can also go for any trending kid's wall art like this one according to your child's interest.
10. Bring the Outdoors Inside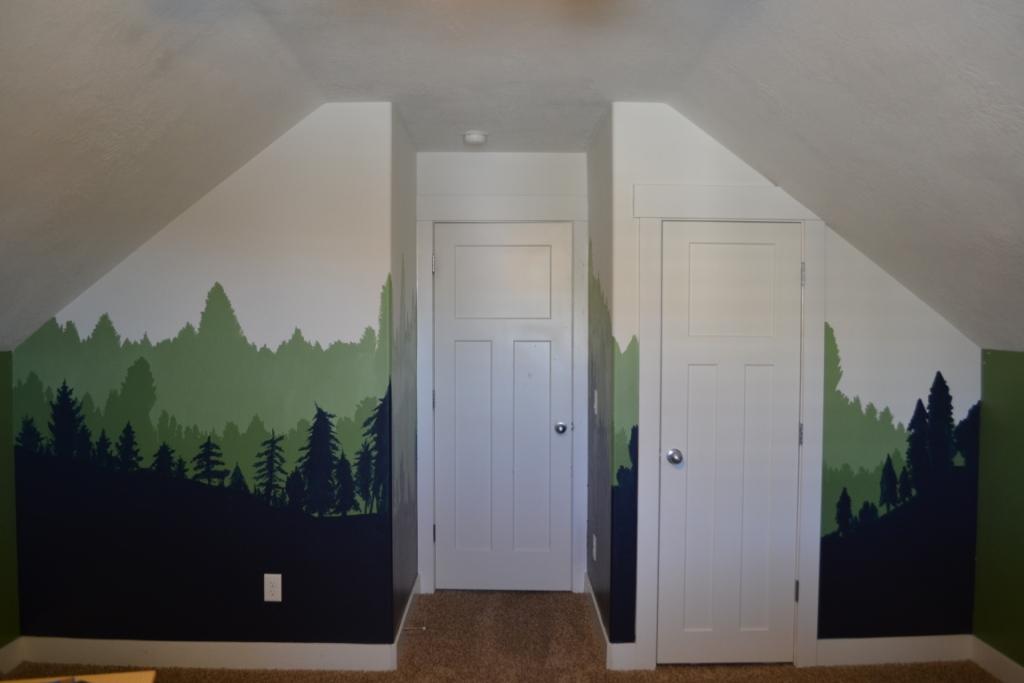 Consider bringing elements from the playground inside if you live in a climate that prevents year-round visits to the park.
Hang a swing from the ceiling, paint the walls to resemble a forest, and construct a few playground-like structures. It may include the ladder or gymnast rings.
11.  A House Inside a House
Every child enjoys a good fort. This bed fulfills multiple functions: it's a fun frame that's relatively easy to put together. It can easily be converted into a fortress.
It embodies the idea that a child's room is like an oasis living space within their own home.
12. Smart Shelving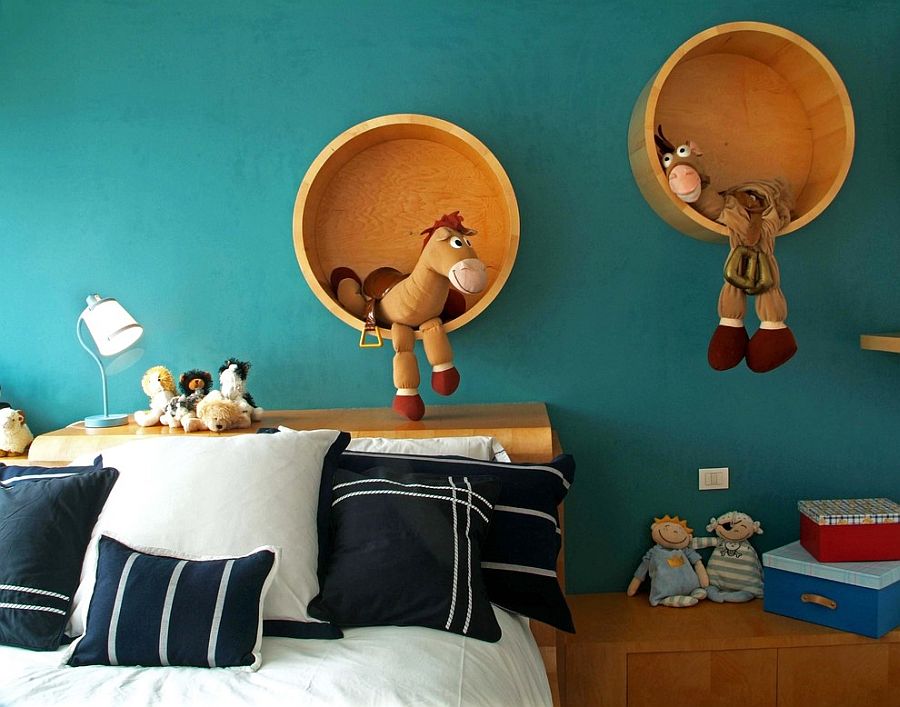 For your child's room, open shelves are an excellent storage option. They help you display various decor pieces in the room while keeping things out of reach of younger children.
They also take up very little space because they are not on the floor. You can be creative with arranging the shelves, stacking them in staggered patterns to add interest to your walls.
13. Work and Play zones
Define work and play zones in your child's room to help them to stay organized. During the summer, set up one area with a designated work surface and cabinets for creative art and puzzle projects. Place the study table near a window to allow for plenty of natural light and fresh air, making studying more enjoyable.
To keep surfaces looking uncluttered and tidy, make sure you have enough storage for books and stationery. To aid your child's concentration, choose a neutral color scheme. Create a bright corner with your child's toys, video games, and stuffed animals for playtime.
14. Murals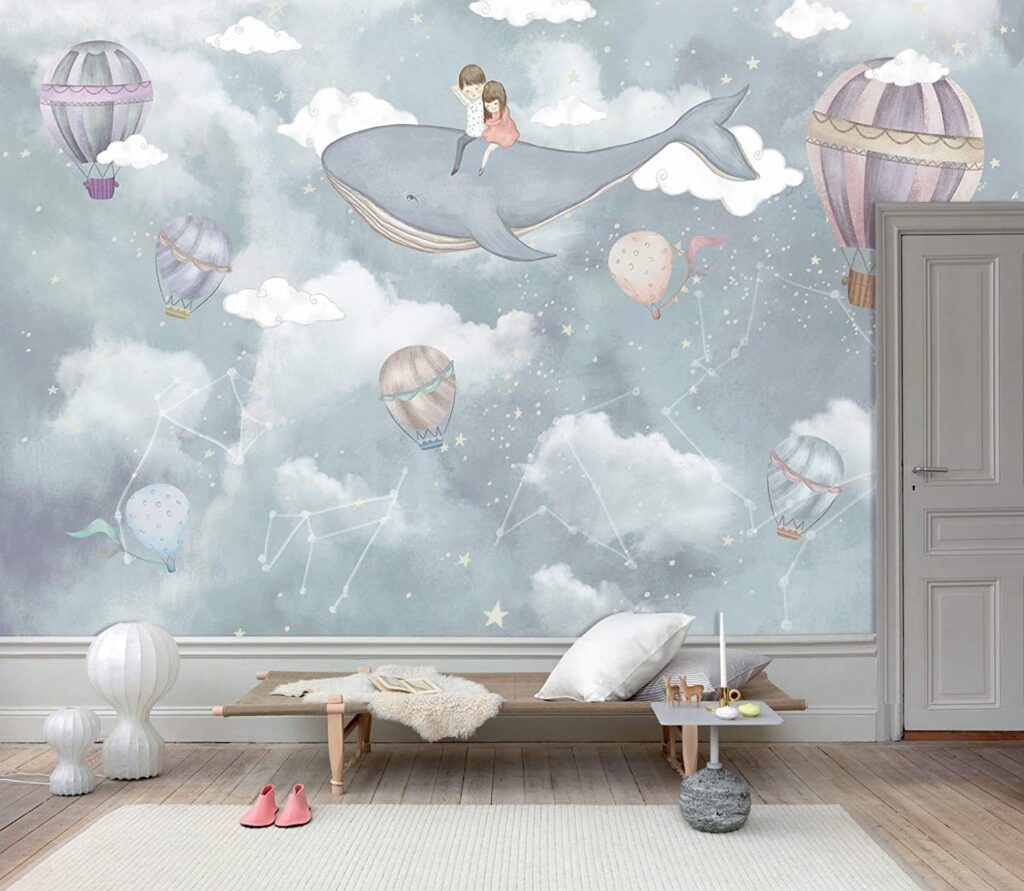 Murals are works of art that are painted directly on a wall or ceiling. The scene or any setting depicted in the mural piques a child's interest in the room.
For example, if the theme is a solar system space theme, a mural of the moon's surface might be a good choice. If you want a princess theme, the castle mural will be spectacular. Murals of the ocean and aquatic animals can be used to create an undersea-themed room.
The Bottom Line
It's a challenge to design bedrooms that grow with your children, as much as it's fun and exciting to watch them grow. You can create exciting wall designs for kids' rooms, regardless of their age. It is a fun and cost-effective way to refresh their rooms.