Lately, more and more people are opting for spending their holiday traveling across their country, reconnecting with both nature and history. Not only is this type of vacation more economical than flying to some faraway land, but it can also be a true adventure. Besides, there is no need to buy plane tickets and book accommodation. All you need for a road trip is an RV.
Since more people are interested in this type of vehicle, manufacturers are constantly working on improving their models and meeting all the needs their clients have. Nowadays, not only can you choose between different classes of RVs, but also each of them has special features that are going to make your trip as comfortable as possible.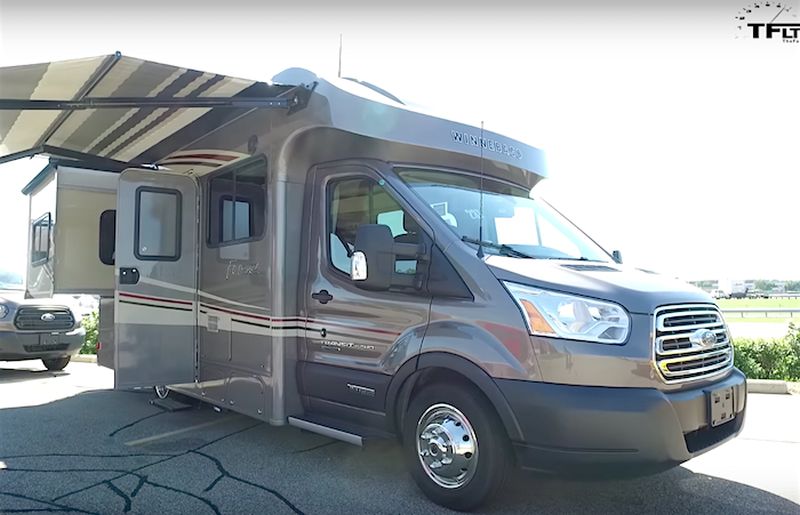 In the following article, we are going to focus on Ford RVs. We are going to introduce you to some of the best vehicles on the market, and also, we are going to give you some tips on how to find and choose the best one for you. We have gathered a list of features that you should look for in a motorhome, but if you want to learn more about these, visit the Skoolie Livin website.
What are the basic features of an RV?
Firstly, allow us to give you some advice on what you have to consider before buying a motorhome. The most important thing that you have to think about is the size of the vehicle. Think about how many people it has to accommodate and of course, how many people you want to travel with. Different classes of RVs can accommodate a different number of people, so this is the first thing that you want to consider. Are you going to travel only with your spouse? Do you have kids? On the other hand, are there a lot of people who would love to go on a road trip with you? There is no point in choosing a motorhome that cannot fit all of you.
Next, you have to think about the place you want to visit. Are you going to travel to another town, or do you want to visit some rural areas of your country? As you can imagine, not all RVs are built in the same way. Some of them are specifically designed for uneven terrain. You see where we are going with this, right? Clearly, you cannot plan every trip to the last detail, but it is a good thing to know at least some locations you want to travel to.
Furthermore, think about the length of those trips? As already mentioned, there are different classes of motorhomes which basically means that not all of them are equipped for long trips. If you want to stay on the road for weeks, then you are going to need a full functioning kitchen with all the necessary appliances, and probably even things like washer and dryer.
If you are about to purchase your first motorhome, our advice is to answer these questions and make a list of features you require, before you start the search for the motorhome.
What are the best Ford RVs?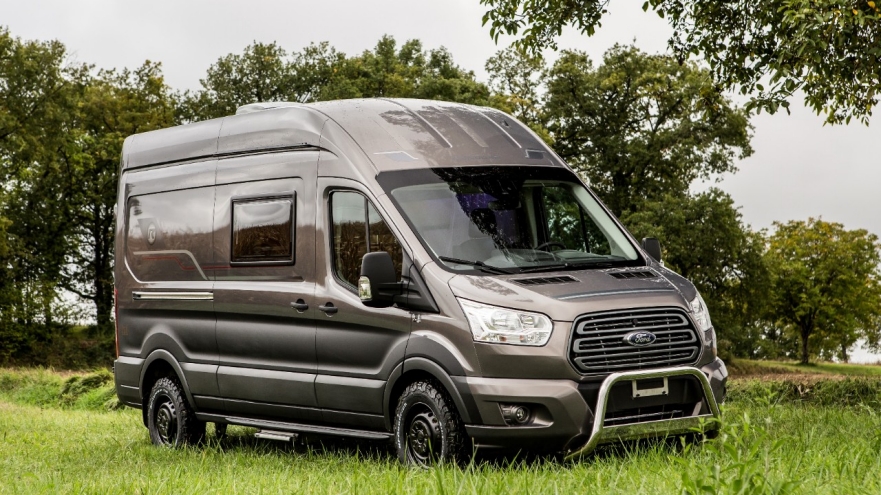 The Transit Custom Nugget camper van from Ford and Westfalia is the first RV that we are going to introduce you to. This vehicle is big enough to fit four adults since it provides you with the opportunity to rearrange seating into a sleeping area. Double beds can easily be set up which are going to ensure that all passengers have a good night's sleep.
There is also a kitchen area where you can store all the food and beverages you bring with you and prepare your favorite meals. The roof of the camper can be expanded and titled which provides you enough space during the night time.
In addition, this vehicle comes with the latest driving technology which means that your journey is not only going to be comfortable, but it also ensures yours and your family's safety while on the road.
The 2023 Thor Magnitude RV is another vehicle that deserves your attention. It is built on Ford F550 chassis and it has a 6.7-liter V8 diesel engine. Its approximate length is about 35 feet 6 inches. Besides having an adjustable bed, there is also a small wardrobe that is going to allow you to store all your things, and it can accommodate up to 10 people.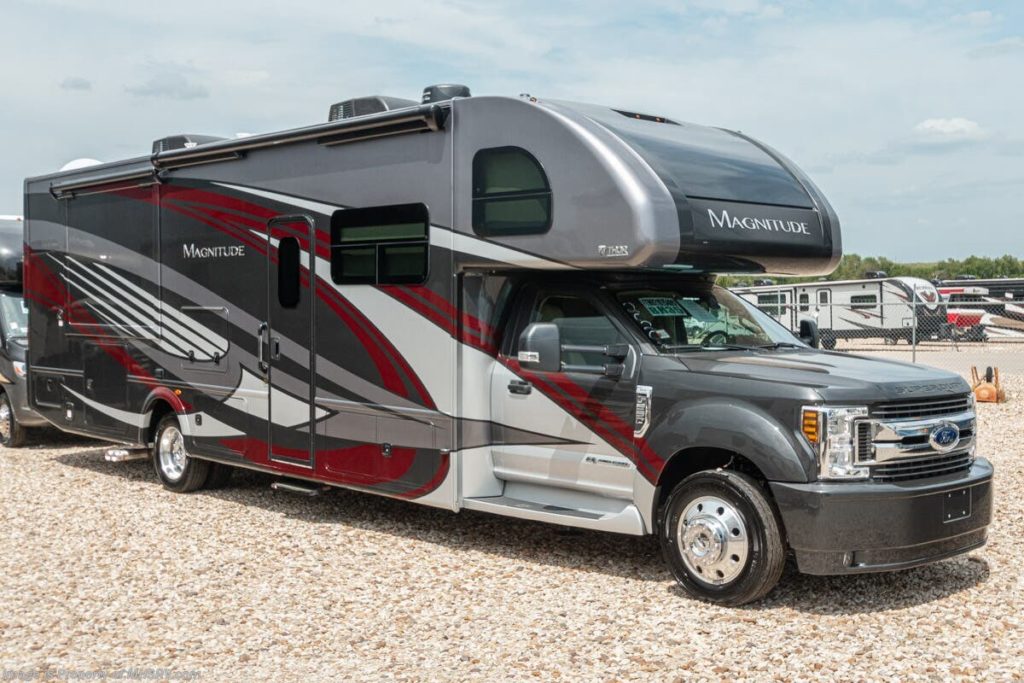 It also possesses the top-notch technology and additional features such as aluminum wheels, 3 camera monitoring system, automatic leveling jacks, exterior entertaining center with soundbar, and so on.
Furthermore, the 2023 Jayco Greyhawk is taking class C RVs to a whole new level. It is manufactured on E450 chassis and it comes with the 6.8L with 305 HP engine. When it comes to the layout of this vehicle, you can choose between five different floor plans, and size varies between 26 to 31 feet. The height of the ceiling is 7 feet, and depending on the model, it can fit between 8 and 10 people.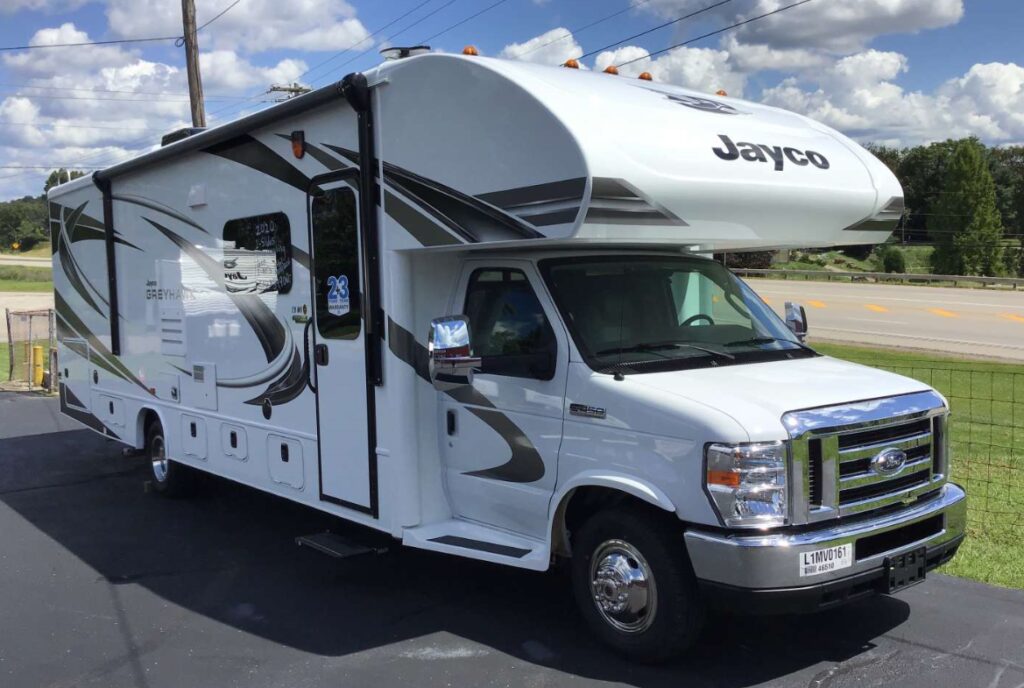 This motorhome comes with two 11,000-BTU units ensuring that you are comfortable during the hottest days of the year. It is designed to provide you with a ton of space and some of the features are LED ceiling lights, vinyl flooring, electric-powered entrance steps, and so on.
The 2019 Nexus Phantom is constructed on Ford Super Duty chassis with a V10 engine and it offers three different floor plans (25, 31, 32 feet in length). This Class C recreational vehicle offers an upgraded AC pump, water filtration system, Beau Flooring, power driver seat, and even an outside shower.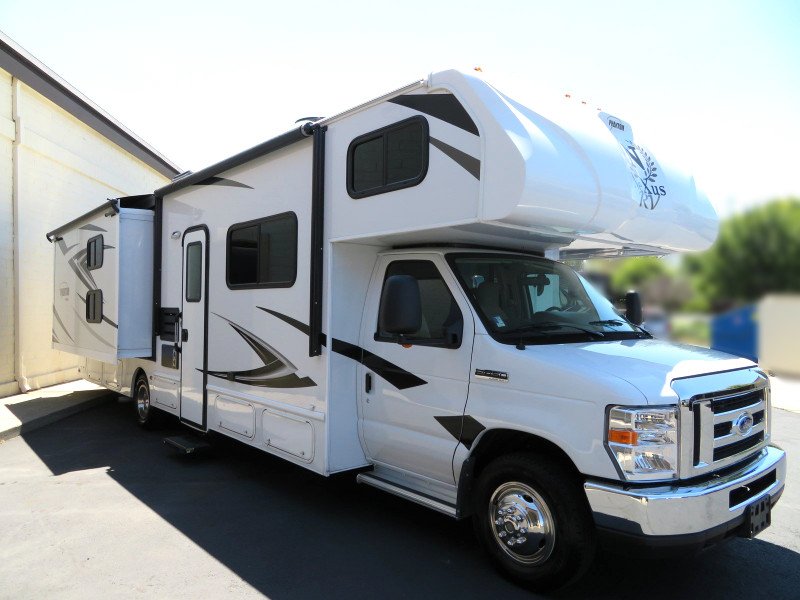 In order to ensure their customers' safety and security, this motorhome features a steel cage construction and two-layer Azdel substrate in the roof and the side walls. Due to the fact that these products are extremely light, they will optimize the efficiency of the engine and also save a lot of fuel.
Finally, the 2019 Winnebago Fuse is a motorhome built on the Ford platform in Class C vehicles. You can choose between three different floor plans. The length of this one is 24 feet and the sleeping capacity is 4 people. It comes with a 3.2 Power Stroke diesel engine and it has 185 horsepower.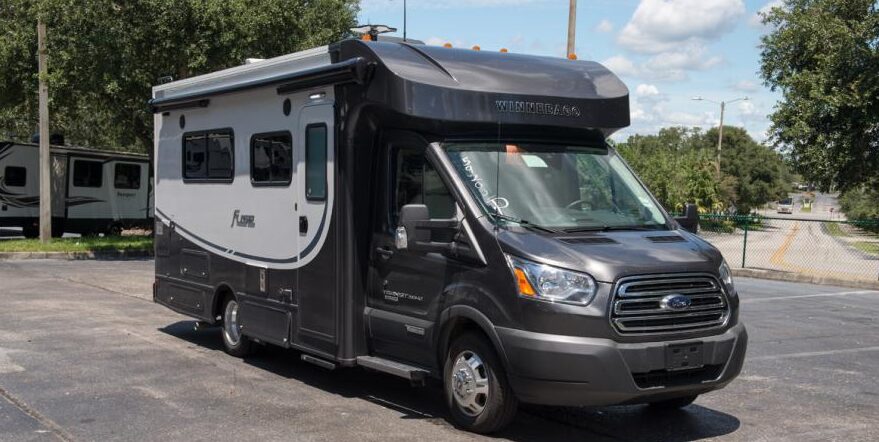 Additional features include SYNC 3 and MyFord Touch system, a multi-function HD display, GPS navigation, and a system that warns you when the RV starts to move out of the lane.