There are numerous benefits to having a fat tire bike. Unlike ordinary bikes, these off-road machines will plow through any rugged terrain. Whether you're biking is a snowy, muddy, beach, or gravel trail, expect a fat tire bike to take you anywhere you want to go.
Thanks to their versatility, many biking enthusiasts are beginning to embrace fat-tire bikes. And manufacturers are making the most of this growing customer base by producing attractive designs with high-performance features to match.
In this post, we consider the most exciting fat-tire bikes you can buy in 2023?
1. Mongoose Dolomite Fat Tire Bike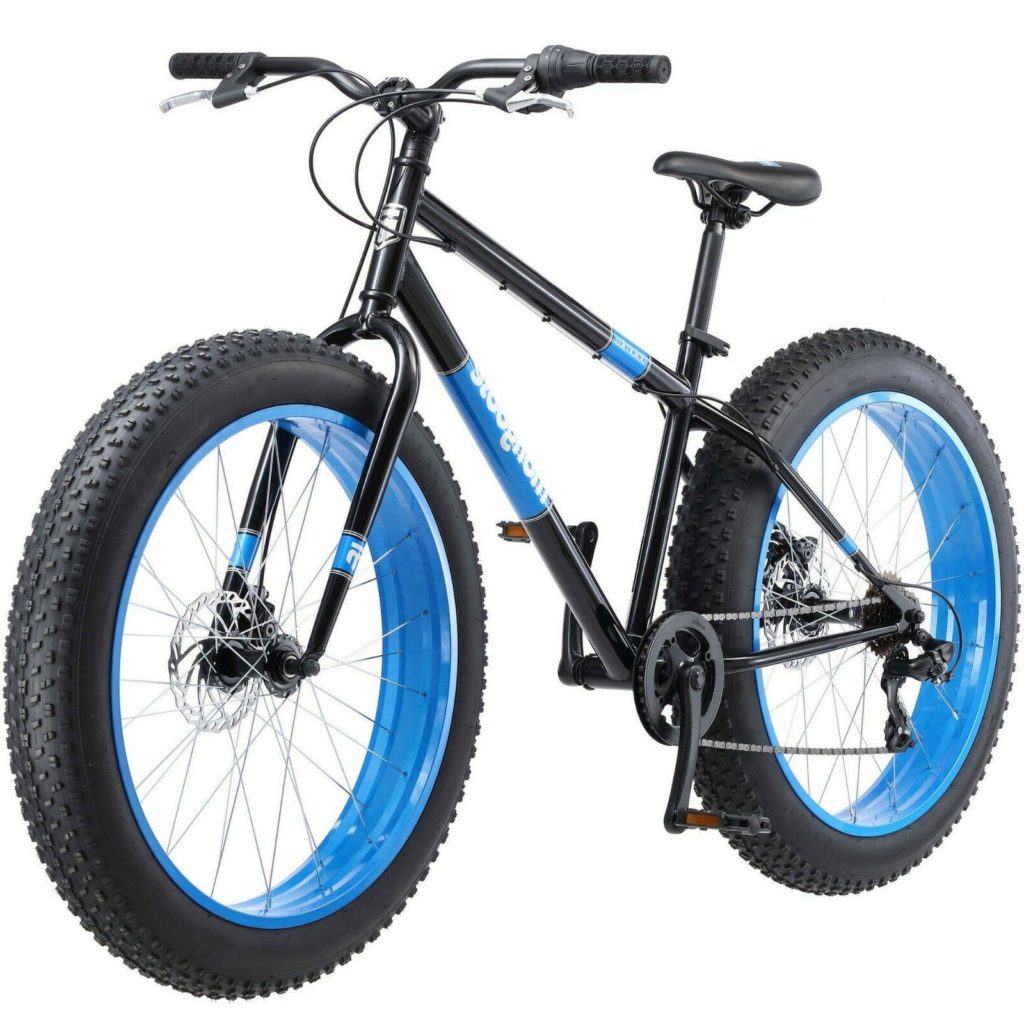 The charming Mongoose fat tire bike comes with a 17-inch steel frame, and features a threadless headset, enabling it to comfortably accommodate rider heights between 5'6" and 6.0".
It is equipped with a 7-speed Shimano derailleur and twist shifters that make it a breeze to scale ascents while providing enough gears to let you tackle all kinds of terrain. Mechanical disc brakes on both the front and rear wheels will stop the bike on a dime and give you the rider confidence you need on slippery trails.
The 26-inch wheels are strong enough to hold your weight and the traction you get from the 4-inch knobby tires will keep your ride stable at all times. Its aluminum alloy rims are sturdy but maintain a lightweight design so as not to add too much extra weight to the bike.
The Mongoose Dolomite fat tire bike will perform well on just about any surface you go riding. You will get the same high performance on mud, snow, sand, and gravel roads. The twist shifters and rear derailleur make it easy for you to ride on uneven ground and to shift gears when needed.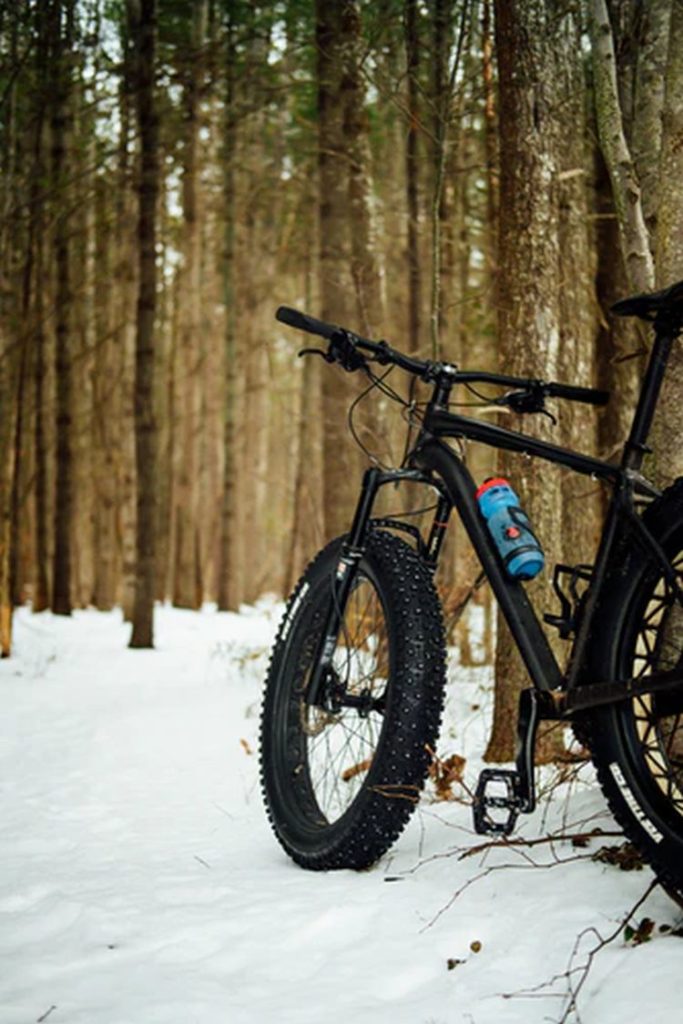 2. Framed Minnesota 2.0 Men's Fat Bike
The Framed Minnesota 2.0 will provide you with a memorable fat tire bike experience. It has a nice geometry, coupled with a tight wheelbase that makes it a breeze to navigate sharp turns and maneuver your way around obstacles on the trail.
A durable aluminum alloy frame gives you the ruggedness you desire for the tough backcountry terrain but still helps to keep the bike lightweight to avoid the strain of riding a heavy bike.
A TIG-welded aluminum alloy fork ensures wide tire clearance on the bike; it can accommodate between 26 and 29 inches of wheels with a width of 2 to 4.8 inches. You'll also appreciate the quick-release mounting system that enables you to swap tires effortlessly whenever you want to tackle different terrain.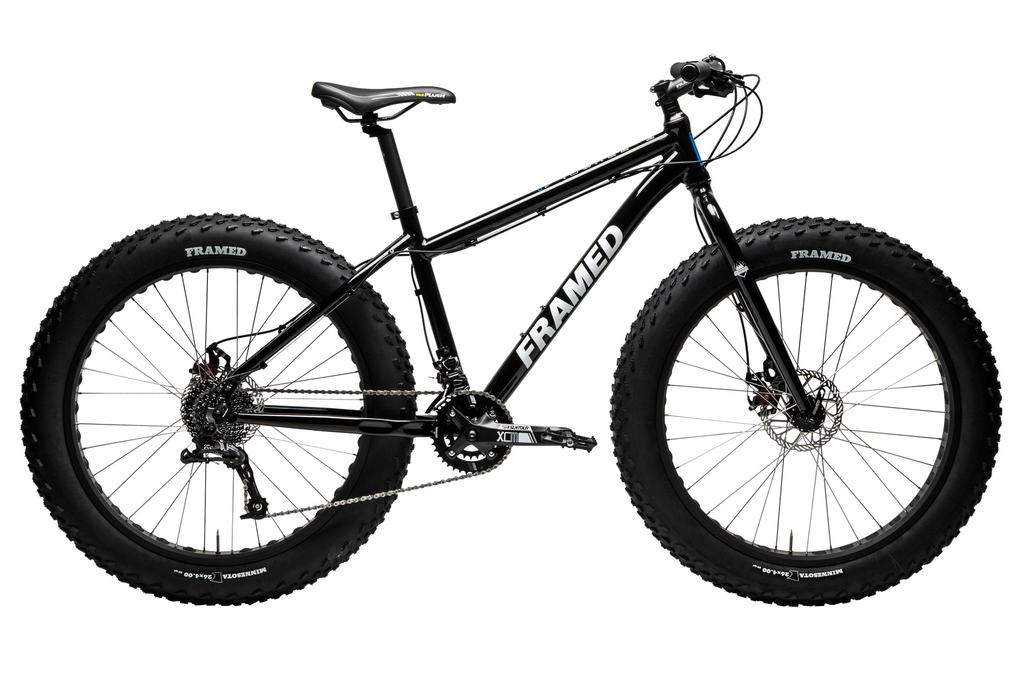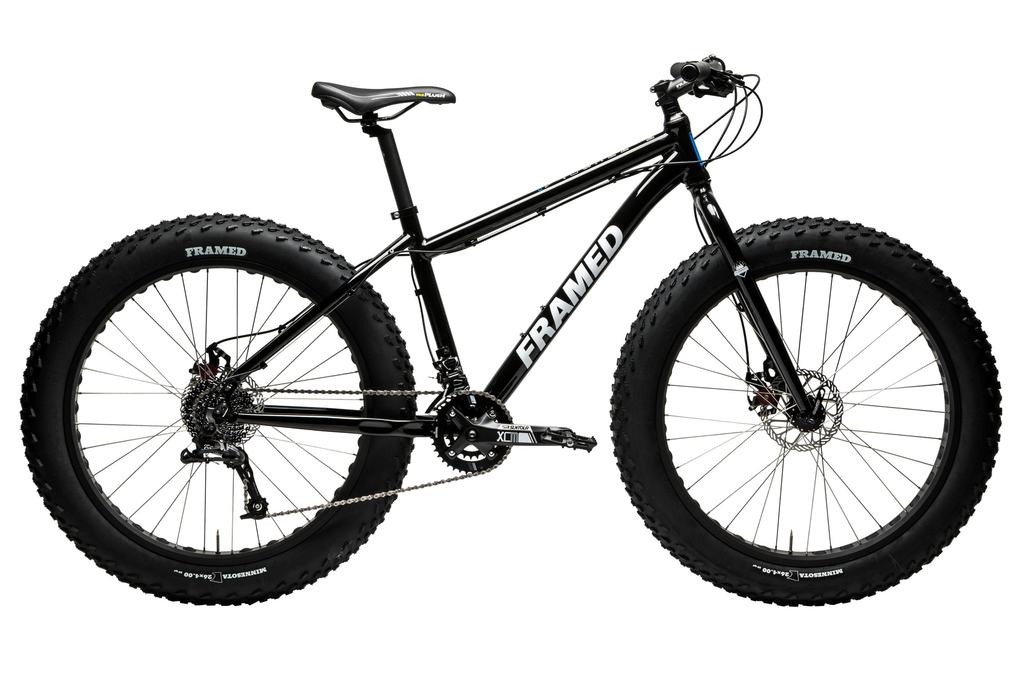 The Framed Minnesota features an integrated shifting mechanism that allows for smooth shifting of gears when you are riding in snow, mud, and even hilly trails. Mechanical disc brakes have been fitted on the bike to help you stop the bike in its tracks if and when needed.
The fat tires on the bike have thick treading to give you an all-weather machine that will perform in wet and dry surfaces. Sealed bottom brackets help to protect the cranks and ensure that they are not exposed to rust.
Finally, the bicycle is available in frame sizes of 16, 18, and 20 inches to cater to different rider heights.
3. Nakto Electric Fat Tire Bike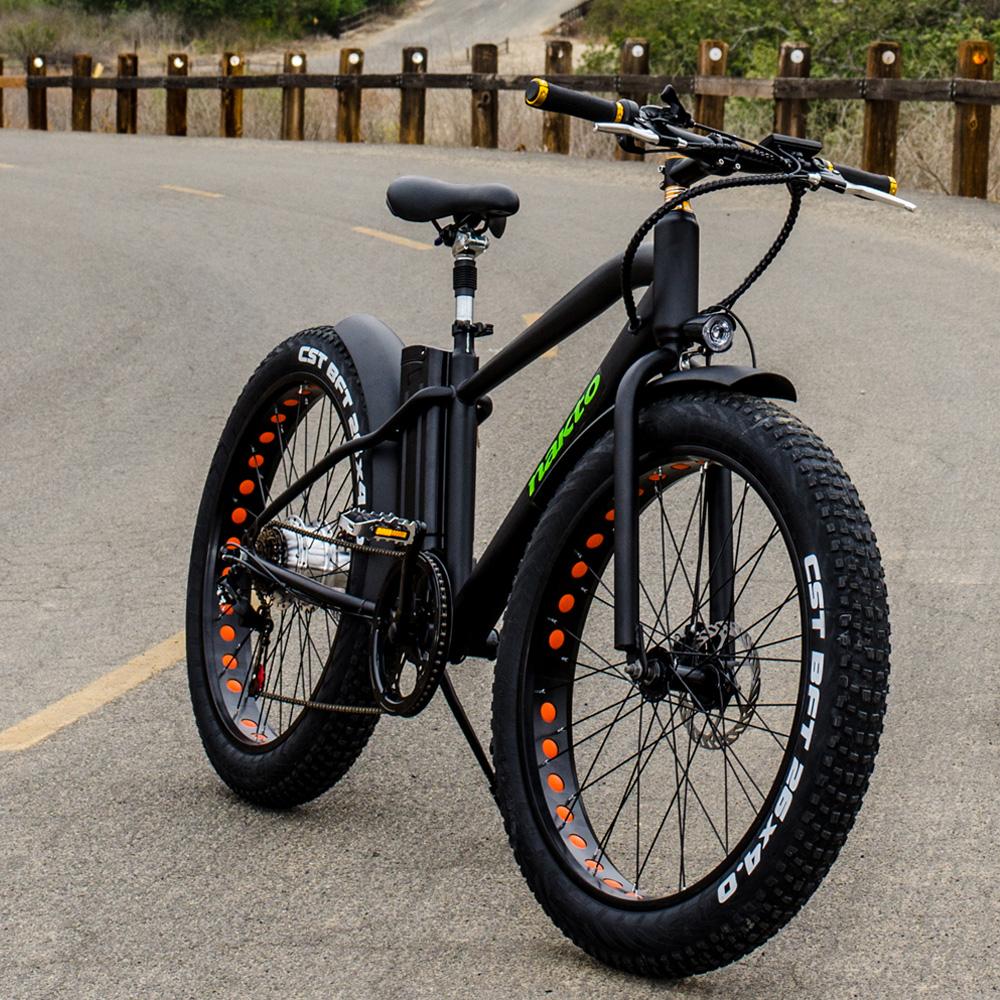 If you're tired of manual riding, you can always make the shift to electric bikes for a more comfortable riding experience. The Nakto bike is one of the best options available if you're looking for a battery-powered fat tire bike; you can read more about it here.
It features a sturdy carbon steel frame paired with aluminum alloy hub to result in an extremely solid machine. It is built to handle the toughest backcountry and mountain terrain you can think of.
The sturdy frame also ensures that this bike will easily accommodate riders as heavy as 220 pounds. The front suspension forks feature thick shock absorbers that make for a smooth ride on uneven surfaces. Meanwhile, the 20 by 4-inch tires enhance traction to keep you stable on all road surfaces.
The bike is powered by a 300W brushless motor and backed by a 36V lithium -iodine rechargeable battery. The motor will take you to a maximum speed of 30mph while the removable and waterproof battery ​allows you to use the bike in wet conditions without affecting its well-being.
To guarantee your safety when riding in the dark, the bike has been fitted with a 30-degree headlight, as well as a horn. These should make you visible to any motorists you meet on the road at night.
4. SAIGULA Fat Tire Mountain Bike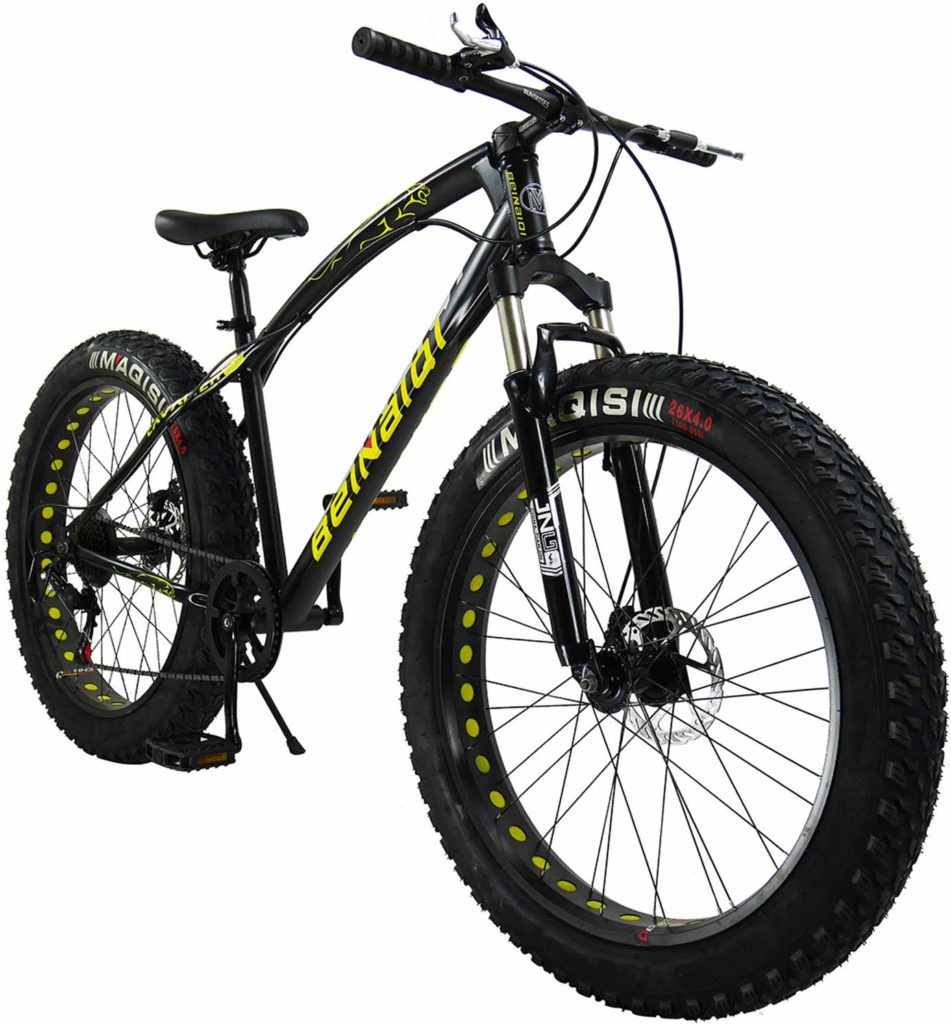 The SAIGULA mountain bike boasts a 100% steel frame construction that gives you the durability you look for in an all-terrain vehicle. It features a dual suspension system that keeps you comfortable on bumpy terrains which can take the fun out of biking.
The frame is strong enough to easily support rider weights of up to 330 pounds. A sturdy saddle, as well as a durable kickstand, complete a host of high-grade features that enhance the ruggedness of the bike.
This bike comes with a 7-speed Shimano rear derailleur that has been paired with twist shifters to make for seamlessly shifting between gears. You'll have an easy time scaling steep hills and conquering different kinds of surfaces.
Front and rear disc brakes have been included to give you enough stopping power on descents and slippery surfaces. On the downside, the SAIGULA is relatively large and some users feel it can be difficult to find a comfortable fit. Click here if you need to find out more.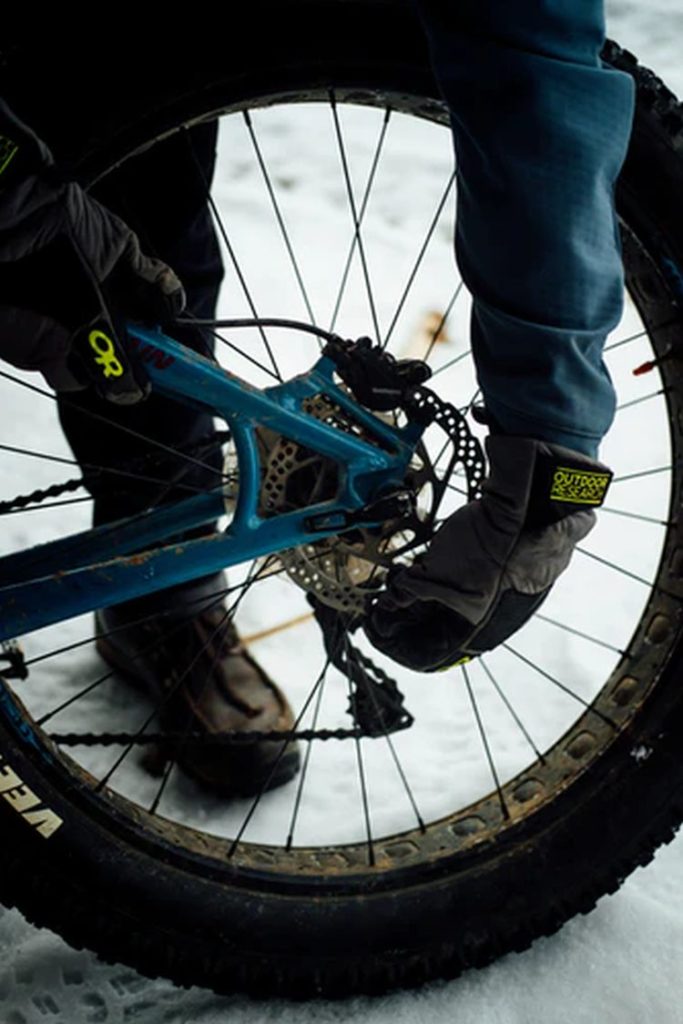 5. Ecotric Fat Tire Electric Bike
This is another amazing offering in the electric fat tire bike category. It comes 90% assembled and will take you a matter of minutes to have it up and running. The bike has a sturdy frame, made of aluminum alloy to carry your weight comfortably.
The seat is adjustable to let you achieve a comfortable riding position while its ergonomic handlebar makes for a practical overall geometry. The Ecotric e-bike boasts a powerful 500W motor that will take you to maximum speeds of 20mph.
A 36V lithium battery ensures that you will ride between 21 and 25 miles on a single charge. The bikes fat tires measure 26 by 4 inches and add to your stability on the road.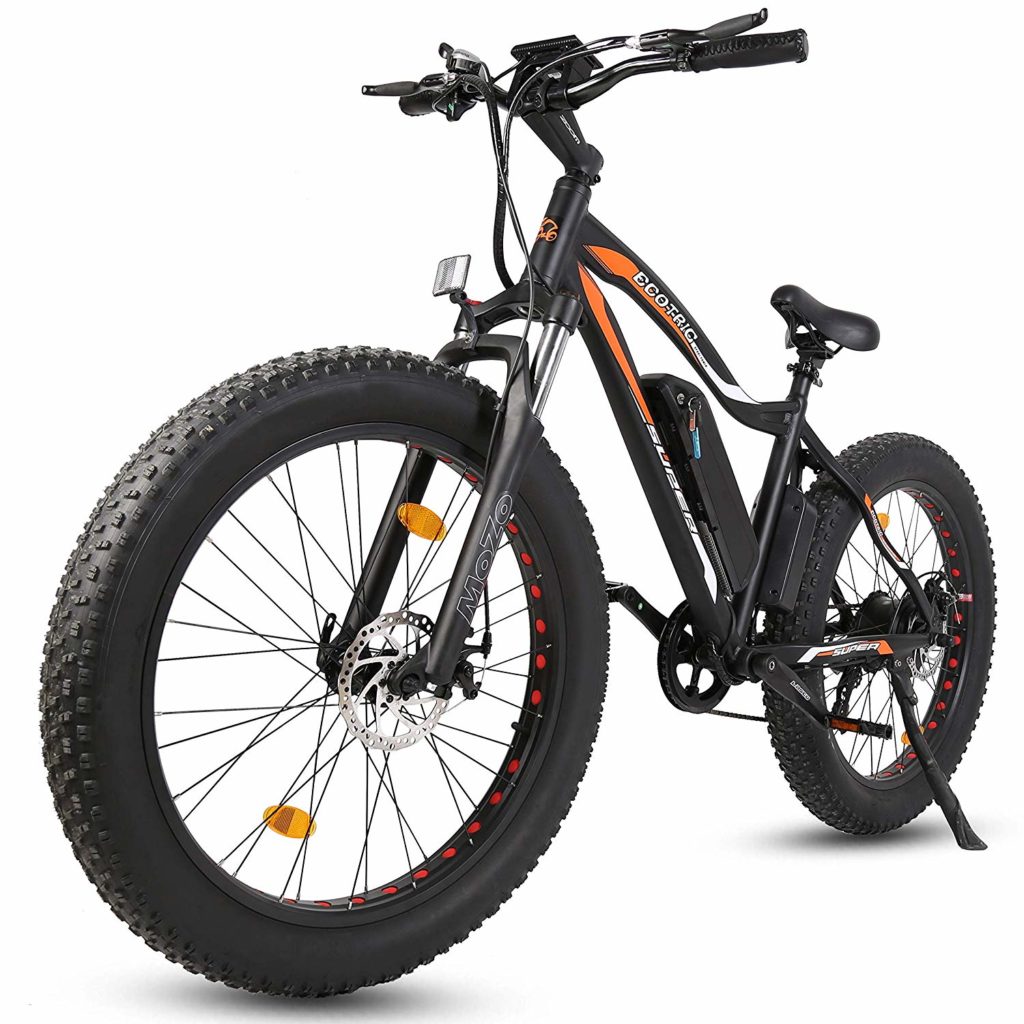 Conclusion
If you want to experience the joy of off-road biking, a fat tire back offers you the experience in these tough conditions. The above models are some of the most sought-after fat-tire bikes currently on sale.