There's something quite remarkable about stepping inside a Houston property. From the fresh whiff of citrus and floral serenity in the air to the unforgettable interior design and décor, Houston homes are a multisensory treat for guests.
And while locals are adept at decking their spaces out in trendy colors and textures, they're even better at selecting the perfect furnishings for each residential section!
Whether you find yourself exploring West U or catch a glimpse of the stunning properties in River Oaks, you'll be taken aback by the sleek and sophisticated interior furnishings.
There's nothing Houstonites love more than revamping their gorgeous living rooms by installing fresh, fashionable, and functional doors.
If you recently moved to Houston, you may want to jump on the bandwagon and indulge in stunning interior portals that do justice to the eclectic design and décor.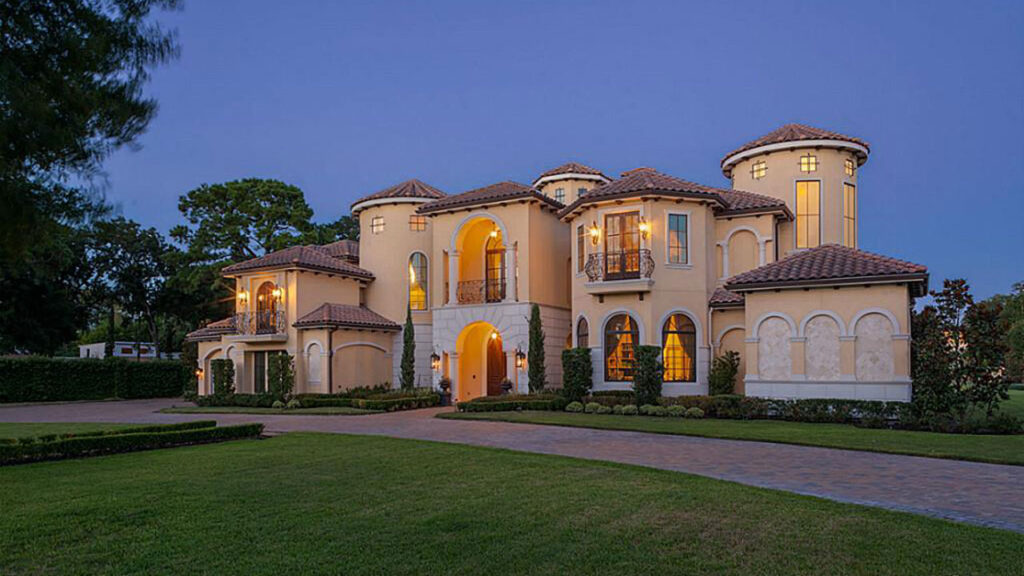 We've rounded up the top five living room door deigns to help kick-start some inspiration!
1. Modern Black Steel French Doors
Black steel French doors have been an easy go-to for Houston homeowners for decades, and this trend is clearly just as popular today as it was in the early 2000s.
Perhaps even more!
Steel French doors pair perfectly with just about any residential palette. Whether your living room is bathed in Scandinavian design, modern country tranquility, or art deco elegance, French doors will fit perfectly with the overall scheme.
If you're looking to give your living room a makeover, we suggest opting for a crisp and fresh cream palette, arched ivory ceiling, and warm-toned furnishings to create a visually pleasing interior balance.
Top the makeover off by installing high-quality steel French doors that instantly catch the eye; they'll serve as the cherry on top of a superior living room restoration.
2. Bohemian Double Wrought Iron Doors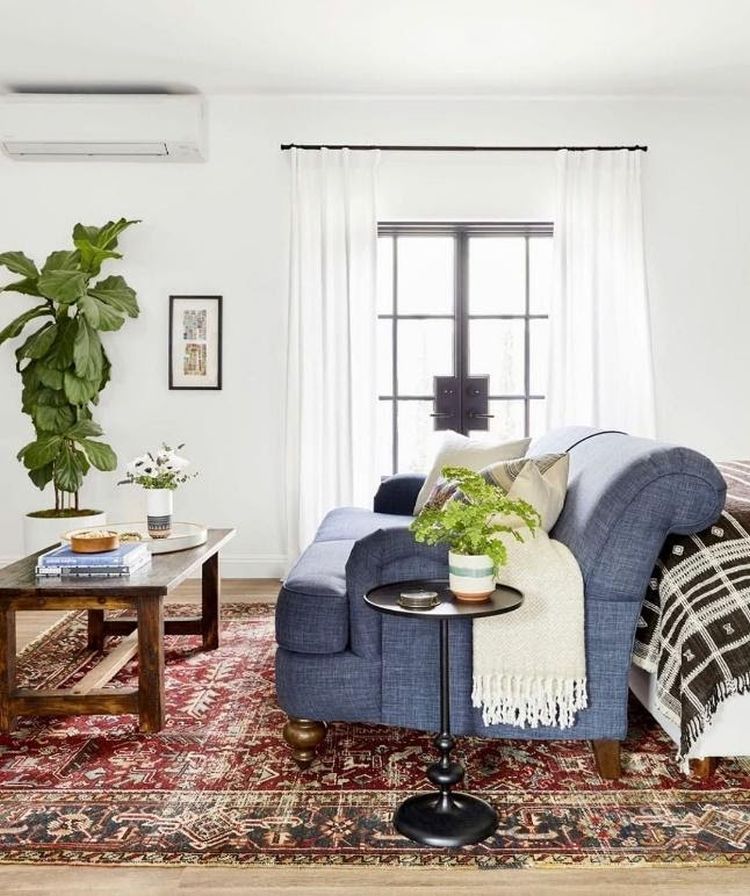 Calling all bohemian design lovers!
Also known as Houston's darling in the world of real estate and interior design, eclectic bohemian design is a sight for sore eyes.
If your living room is packed with exuberant colors, vintage rugs, fresh greens, and rustic furnishings, we suggest opting for double wrought iron doors. The compelling finishing, high-quality framework, and minimalist look will complement the vibrant energy of your space and add a touch of modern sophistication.
Install alabaster or powder white door curtains to soften the charcoal black finishing or the iron glass doors. The dynamic play between light and contrast will not only look spectacular, but will also enrich the surrounding space.
3. Classic Industrial-Style Steel Doors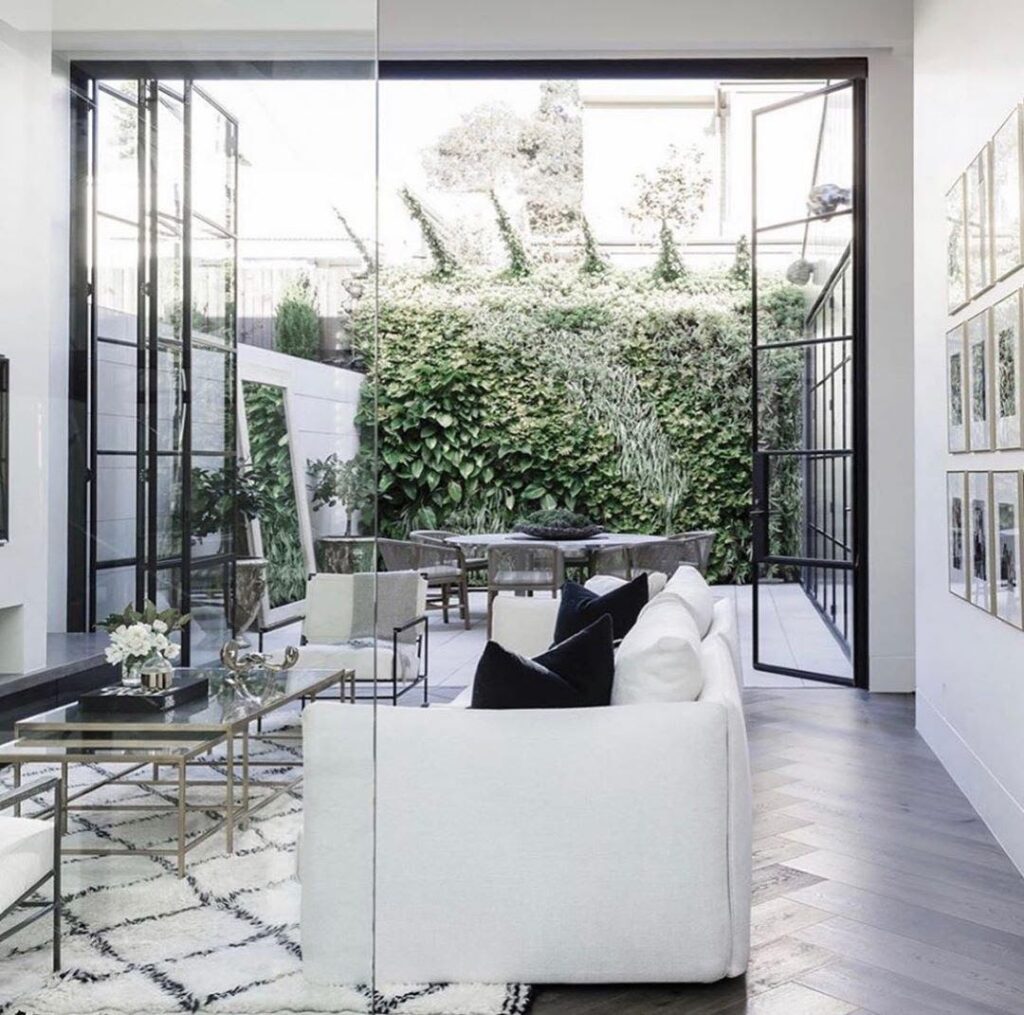 Industrial living room design has been in vogue over the past few months, and we doubt it'll be leaving our sights any time soon. And if there's one style of door that fits perfectly in this gorgeous scheme, it's classic industrial steel.
Recreate the look by embellishing your Houston property with dream-like factory-style steel doors that have an instant uplifting and energizing effect. Their wide and all-encompassing structure will add a touch of unique and intricate charm to your living room.
We also suggest opting for B&W industrial design and décor to replicate the urban feel.
Feel free to imbue splashes of your personality into the space by indulging in pastel tables, colorful artwork, and muted interior floral arrangements.
If you want to go the extra mile and add a slightly steam punk feel to the space, browse through some industrial living room inspiration before you commit to the cause!
4. Luxury Reimagined: Custom Iron Doors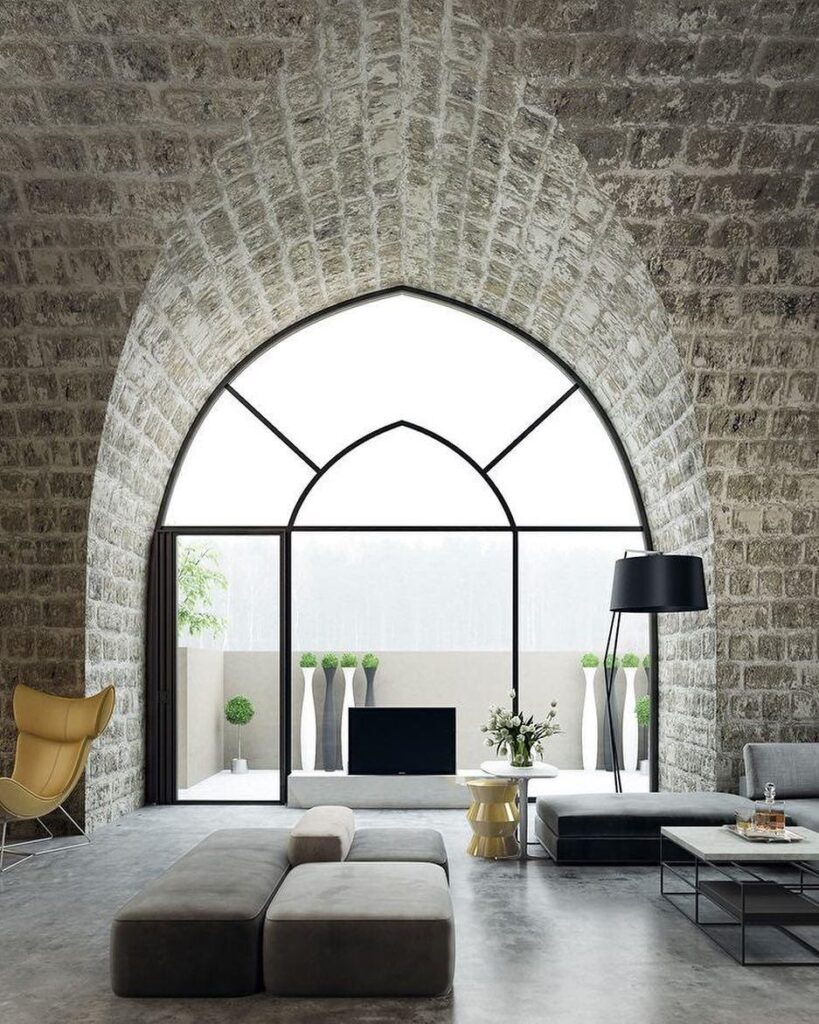 Think luxury, and visuals of Houston properties instantly form in the mind.
Houstonites are known to go all out when it comes to ensuring their home looks and feels like a visually satiating haven.
We've been obsessing over these gorgeous custom iron doors that fit seamlessly into the overall scheme of rustic and semi-industrial living room serenity. The arched rods, sleek finishing, and brooding demeanor perfectly complement the high stone walls and grey marble flooring.
Opt for contemporary iron doors to pull off the stunning living room makeover and watch as guests gape at the imposing and stirring sight.
Alternatively, custom pivot doors are also a great option for homeowners who want to opt for a different style but retain the sophistication and luxuriousness.
5. Houston's Best-Loved Iron Patio Doors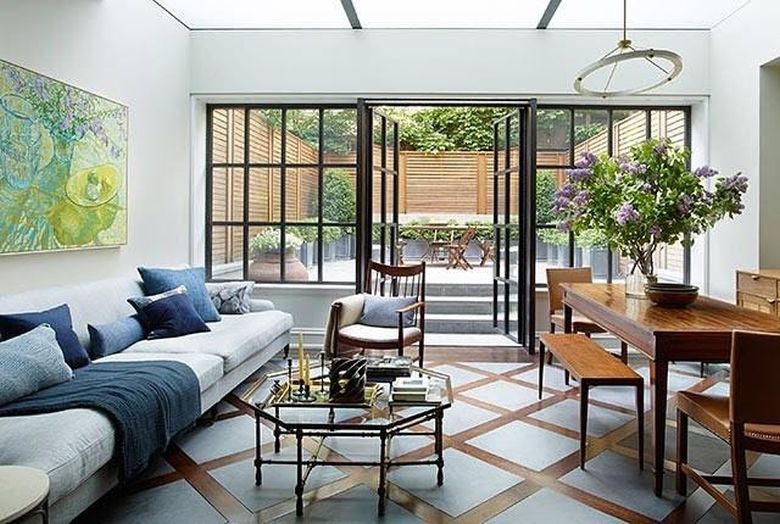 There are very few homes in Houston that don't feature a gorgeous pair of iron patio doors.
From Greater Memorial to Galleria-Uptown, the stunning neighborhoods of Houston are known for their magnetizing wrought iron living room doors.
Recreate the look by indulging in iron doors with glass. The welcome addition will increase the overall value of your property and add a touch of relaxation and tranquility.
Indulge in warm mahogany living room tables, chairs, and stools to complement the double wrought iron doors and increase the aesthetic appeal of the space.
We also suggest sprucing up your patio to ensure a seamless and engaging transition from the living room to the exterior space.
About the Author
A leading door designer in Texas, the author is known for their stunning living room door designs for Pinky's Iron Doors.
The company offers a gorgeous collection of steel sliding doors, pocket steel doors, wholesale iron doors, steel front doors, and iron French doors designed by the author.
In their free time, the author loves to try delectable Thai cuisine and write blogs on interior design, décor, and structure.