It is no secret that parents have to buy a lot of baby equipment as their youngling grows up. One of the most important things they should have for them is an exersaucer, a baby play station that helps babies develop their motor skills. In this article, we will check out some of the best models available in 2023.
1. Fisher-Price Rainforest Jumperoo – $75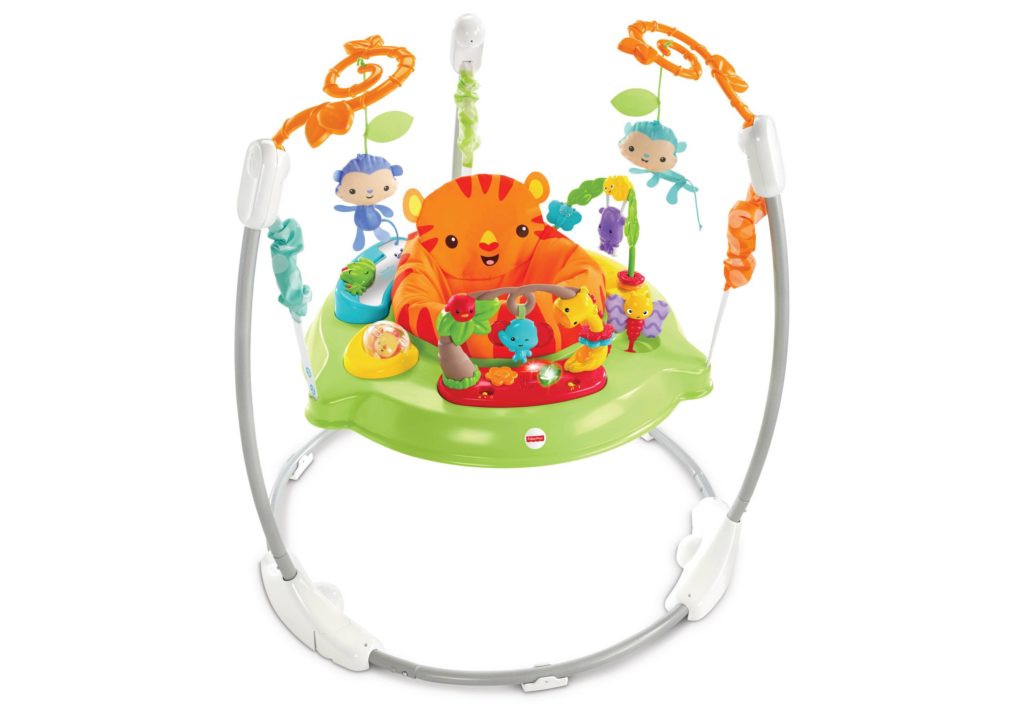 The first activity center has it all. There is a jumper with elastic supports that gives your baby a fun jumping and bouncing experience. Parents said it is much bouncier than other models, meaning the baby can really have a go at it.  Furthermore, the lights and sounds are triggered when the baby is bouncing, but they also go on with harder hand contact. The zoo animal sounds are adjustable, and so is the volume. A Luv u Zoo version of this model is also available. The seat rotates 360-degrees so that the youngling can reach everything.  It even has a teether toy and a whole tray for snacks. The build is strong and well-constructed, and a bit lighter weight than some other units.
2. Skip Hop Explore & More Activity Center – $100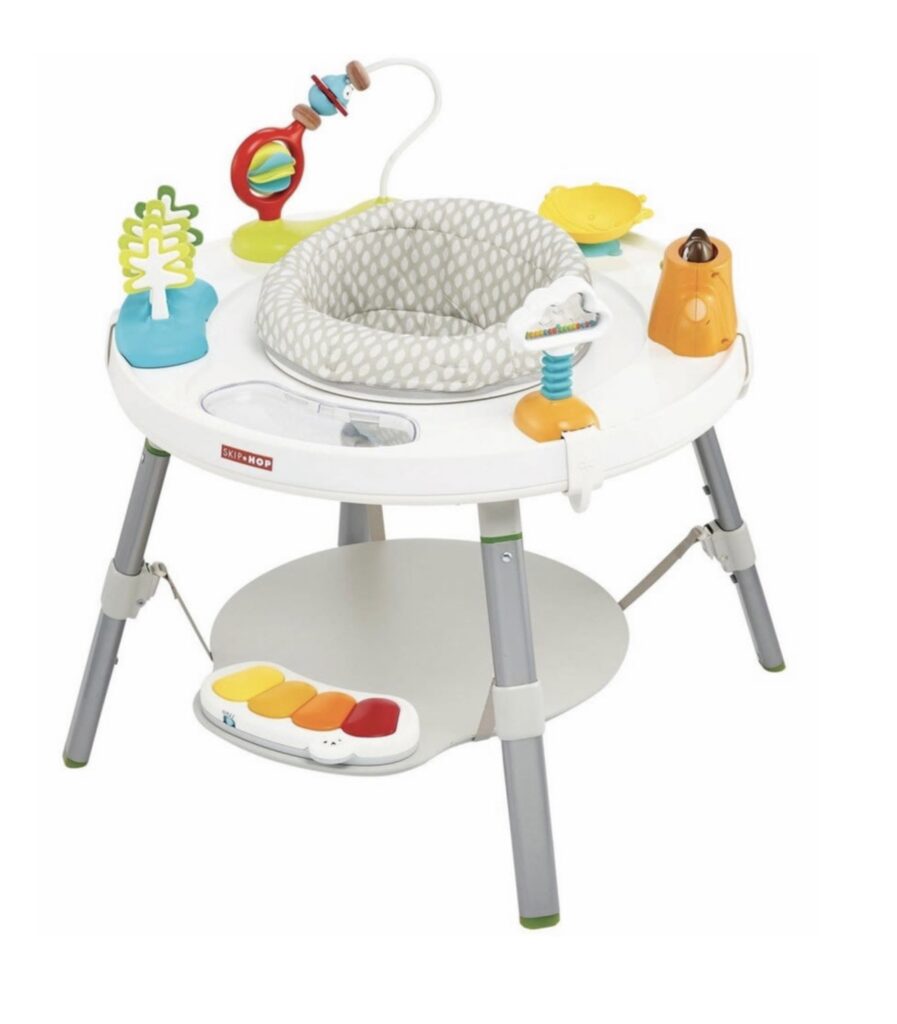 The brand is known for their high quality, simple, stylish, and most of all, durable products. Both practical and nice to look at, this exersaucer activity center has a comfortable rotating seat, an adjustable height foot platform, and a wide range of colorful and functional baby toys. The foot platform can be adjusted up and down to stay in touch with the baby's height. Below, there is a little foot-operated keyboard that lights up and plays tunes if the baby steps on it. There is a discovery window is above it. The keyboard is removable from the foot tray and can be placed onto the discovery window. The toys are simple, full of bright primary colors, spinning, flipping, and popping mechanics, and some have multisensory feedback. Although not foldable, it takes only a few minutes to take off the legs and store it easily.
3. Oribel PortaPlay 4-in-1 Activity Center – $125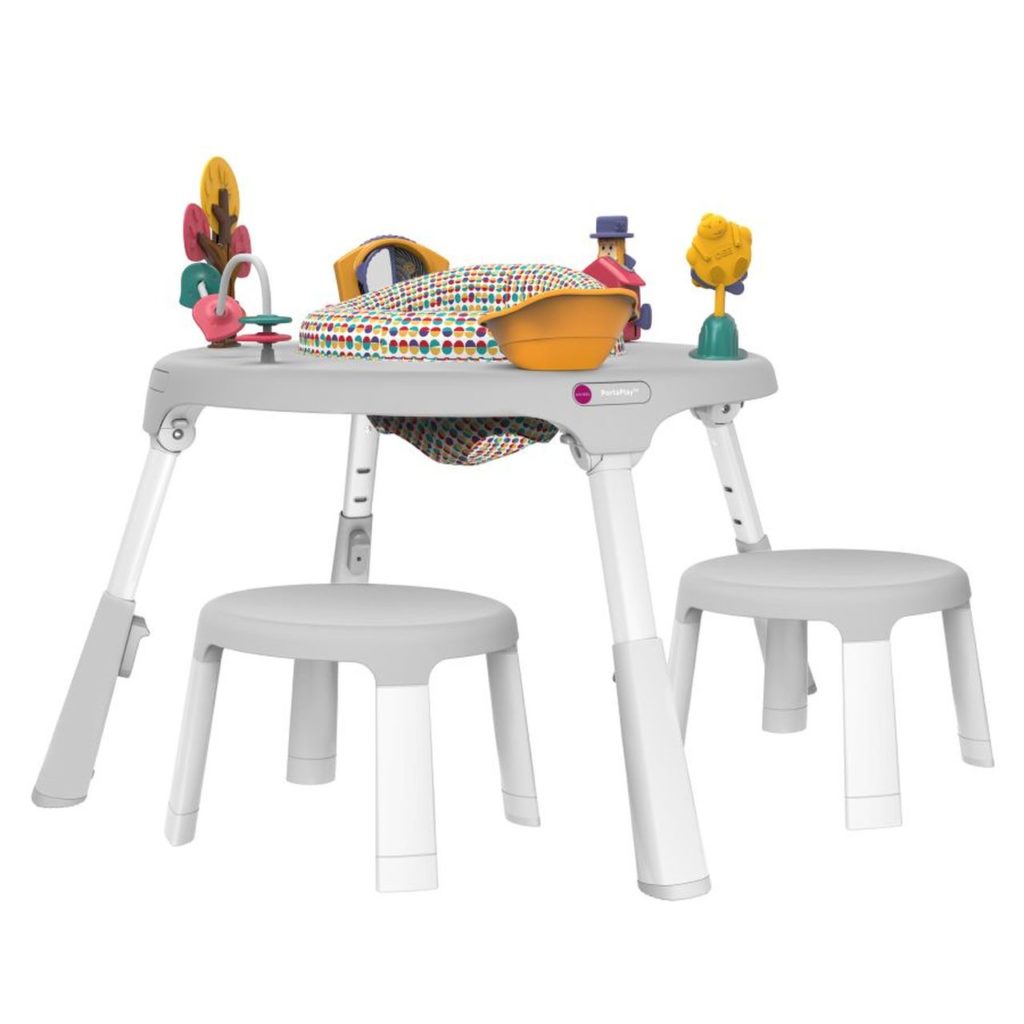 The third entry on the list perhaps has the most versatility, since it a four in one model. It features high quality, flexibility, and durability, and most reviews show a lot of satisfaction. The modern styling, simplicity, and all features are amazing, and it is sure to help both the parents and the baby. The four modes are the following. First, it quickly folds up the legs for easy storage and slides easily under the bed. Next, it is a great activity since you can snap the toys to the top and unfold the legs. The leg height is adjustable by 5″ up and down, meaning it can be 13″ or 18″ from top to floor. The toys are simple and fun and they have a cool pop on and pop off design that lets the baby swap them in different positions. The seat spins for 360-degrees and it is sturdy on hardwood and carpeting alike. When the toddler starts walking, the seat and toys can be remove and a cover can be placed on the hole, turning the whole thing into a play table. Separate chairs can be purchased to make it sit-and-play table, instead of a stand-and-play table. A neat and cool art paper roll dispenser sells separately as well.
4. Baby Einstein Activity Jumper – $90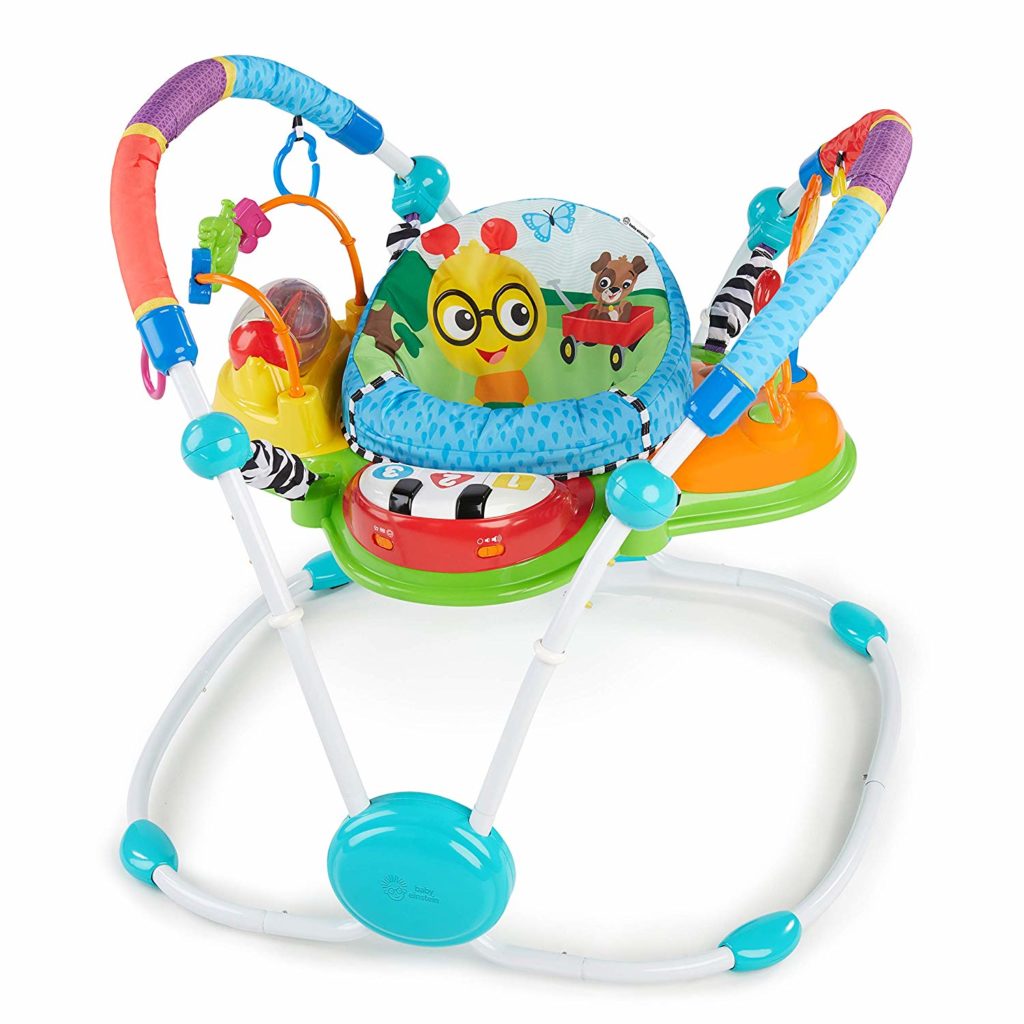 The fourth and final exersaucer on the list has elastic support for a fun and safe bouncy experience. The baby can do over a dozen different activities using this model. They can spin 360 degrees in order to reach everything, and there is even a fun little piano with engaging tunes. Extra loops for additional toys are present as well, just in case they have a favorite toy that is not from the set. The height is easily adjustable to follow your baby's growth, and there is a food tray for the snacks and beverages. Babies from 4 months old will benefit most from it, until they start walking and climbing. Because of this, it is not as versatile as some other models, but it is still a fun station for the baby to use.